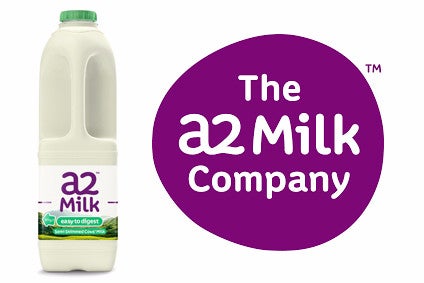 A2 Milk Co., the New Zealand-based dairy and infant formula group, today (15 June) lifted its forecast for full-year EBITDA after weighing up how recent changes in regulations in China could affect the business.
In February, the company had estimated operating EBITDA for the year to the end of June would hit NZD45-49m (US$31.6-34.4m). For the year to 30 June 2015, A2 Milk posted group operating EBITDA of NZD4.8m
In a stock exchange filing today, A2 Milk raised the forecast. It now sees operating EBITDA in the range of NZD52-54m.
In recent months, there have been changes in China's regulations on the taxation of products traded across borders via e-commerce and on the registration of domestic and imported infant formula.
"The company continues to adjust and evolve its manufacturing and distribution model in response to such changes. In particular the company remains of the view it is alert and well placed to respond to other potential changes in the regulatory environment," A2 Milk said.
"As a result, the company continues to perform strongly compared to its plan in the second half of FY16."
A2 Milk also indicated its annual revenues could rise. In February, it had predicted revenues would hit NZD335-350m. Its new forecast is for revenues to reach NZD350-360m. In A2 Milk's last financial year, the compant generated revenue of NZD155.1m.
Shares in A2 Milk traded on the New Zealand stock exchange closed up 12.74% at NZD1.77. The shares are down 4.84% so far this year.