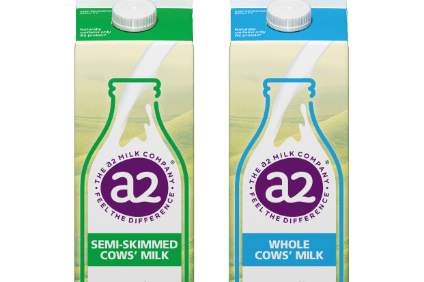 New Zealand-based A2 Milk Co. has changed its fresh-milk processor in the UK, with local firm Crediton Dairy taking on the contract from German dairy giant Müller.
A2 Milk agreed to enter the UK in 2011 through a venture with milk supplier Robert Wiseman Dairies, which Müller acquired a year later.
However, the tie-up with Müller has changed, which will supply milk to another UK firm, Devon-based Crediton Dairy, which will then process the milk into fresh milk to be sold under the A2 brand in the UK.
One of the first major initiatives A2 Milk and Crediton Dairy have undertaken in the UK is a move to sell the New Zealand firm's fresh milk in the country in cartons.
The cartons use 80% less plastic than plastic milk bottles and are recyclable.
"One of the criteria for selecting Crediton was the opportunity to go into cartons," a spokesperson for A2's business in the UK said. "However there were many considerations and critical was ensuring they could continue to supply high-quality pure cows' milk that naturally only contains the A2 protein. They also wanted a partner which shares their ambitions for the future and will give them the flexibility to adapt to market demands and develop new products to help them grow."
Last month, announcing its results for the year to the end of June, A2 Milk said volumes of its branded fresh milk had grown by more than 50% on the previous 12 months "through gains in distribution and in-store sales velocity".
However, A2 Milk added: "The UK continues to be a challenging market to achieve scale."
A2 Milk does not break out the sales it generates in the UK. It did report combined sales for the UK and the US for the year to 30 June, which it said reached NZD32.4m (US$21.4m), up 54%. The markets made a combined EBITDA loss of NZD27.6m, which was 23% higher from a year earlier.