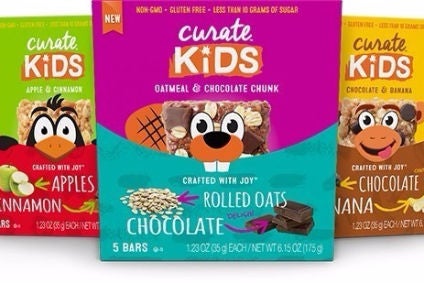 US infant formula and pharma group Abbott Laboratories has extended its Curate bar snacking range to target children in the US.
Abbott has launched Curate Kids, a line of snack bars designed specifically for children. It says the bars are made from "good-for-you ingredients in kid-approved flavours".
The company entered the snack bar market with the launch of Curate bars in February.
Curate Kids bars are non-GMO, gluten-free and free-from artificial preservatives, flavours and colours. Each bar contains 4g of protein and 2g of fibre.
The line features three variants: oatmeal and chocolate chunk; chocolate and banana; and apple and cinnamon.
"We want to help parents win the snack time battle with great-tasting, on-the-go options that don't compromise on nutrition," said Daniel Marple, general manager for nutritious snacks at Abbott. "Any parent knows that when it comes to getting your kids to eat what they should, taste is key. Curate Kids is a snack that kids will enjoy and that parents can feel good about."
Curate Kids snack bars are available at retail stores nationwide at an RSP of US$4.99 for a five-pack.