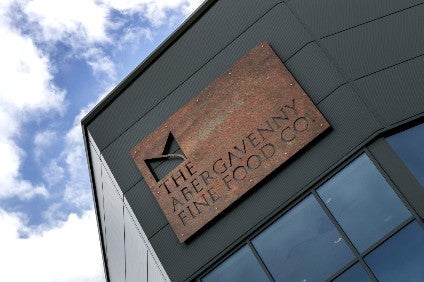 The Abergavenny Fine Food Co., a UK-based dairy and snacks producer, is simplifying its cheese portfolio with plans to discontinue flavoured and blended cheeses and focus on the value-added portion of the business.
Headquartered in the town of Pontypool in south Wales, where it has a production facility in Blaenavon, the company currently manufactures chilled and frozen dairy products, plant-based appetisers such as mozzarella sticks and cheese-filled Jalapeno poppers, mainly for private-label retail clients in the UK and overseas but also its own branded products.
Abergavenny Fine Food will no longer produce the Y-Fenn, Tintern, Harlech and St. Illtyd lines of flavoured and blended cheeses after December but will continue to manufacture goat's cheese from its dairy creamery in Abergavenny.
The company's value-added products include cream cheese filled Jalapeno peppers, breaded Cornish camembert and new additions in the plant-based space such as the vegan mozzarella sticks and Jack Fruit burgers, a company spokesperson confirmed to just-food but declined to provide details on what will happen to the discarded brands pending an announcement.
Multi-national lender HSBC has recently provided Abergavenny Fine Food with a "seven-figure finance package" to support its growth in the value-added area – chilled and frozen dairy, plant-based appetisers and snacking items, and vegan ranges – as the business seeks to achieve sales of GBP50m (US$64.7m) in the next three years, it said in a statement.
The spokesperson confirmed sales for the 2019/20 fiscal year were GBP30.9m.
Abergavenny Fine Food has also undergone a management change after managing director Melanie Bowman stepped down after 15 years to be replaced by Jason Rees, who previously worked as an adviser at Step Change Ventures in London. A former consultant at Tresimwn, Andrew Lord, has been appointed as chairman. Bowman will take a "back seat executive role".
Rees said in the statement: "The decision to close this chapter has not been taken lightly, but strategically we must focus on more profitable, scalable products to reinforce our growth and future-proof the business. We are growing our domestic business with our retail and wholesale partners in the UK and our export markets have also increased from 8% in 2017 to 20% this year."
The spokesperson for the business confirmed Abergavenny Fine Food currently exports to the US, Canada, Australia and Japan, with a target to boost the percentage of overseas sales to 24%.