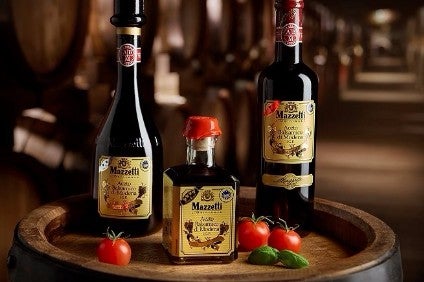 Associated British Foods, the owner of brands including Jordans cereal and Tip Top bread, has acquired Italian balsamic vinegar supplier Acetum.
The UK-based business said the deal, struck for an undisclosed sum, would "broaden our international presence in speciality foods".
Acetum, based in Modena in Italy, generated net sales of EUR103m (US$123.8m) in the year to the end of December. Its brands include Mazzetti, which is sold in markets including Germany and Australia, as well as Acetum and Fini.
ABF said the business has Protected Geographical Indication status from the EU "due to its unique manufacturing tradition and provenance, as well as its high quality".
Founders Cesare Mazzetti and Marco Bombarda are to stay with the firm. Acetum also produces a range of apple vinegars and other condiments and sells its products to more than 60 countries around the world.
ABF announced the acquisition alongside a trading update for its financial year to 16 September, issued ahead of the publication of the full results in November.
The company said annual revenues from its continuing grocery business are expected to be "level" with last year. Adjusted operating profit is, however, expected to be lower. ABF reported falling margins at UK bread arm Allied Bakeries amid "a very competitive" UK market and pressure from cost inflation.
ABF is set to announce its annual results on 7 November.