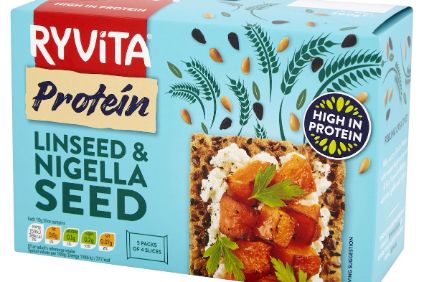 just-food publishes the most notable product development from the international food sector, presented in bitesize format to give you a flavour of the innovation from your peers and competitors announced this week.
ABF eyes protein trend with new Ryvita line
Associated British Foods has decided to try to get its Ryvita brand to tap into consumer interest in protein in the UK.
The UK-based group has added to its range of Ryvita crispbread with the Ryvita Protein line. Alongside the usual rye, each slice contains pea protein.
The company said the new product – available in two flavours – is "high in protein". Ryvita Protein Red Quinoa & Sesame contains 20.7g of protein per 100g, or 2.1g per slice. Ryvita Protein Linseed & Nigella Seed contains 21.4g of protein per 100g, which also equates to 2.1g per slice.
ABF has also launched a Ryvita Bakes line, baked with vegetable pieces and which it says are "high in fibre and low in saturated fat".
The business has secured listings at Sainsbury's for the new products.
Kerry adds chicken sausages to Richmond range
Ireland's Kerry Group is attempting to tap into healthier eating trends by adding chicken sausages to its Richmond brand line-up in the UK.
Kerry said the chicken sausages contain 30% less fat than the traditional pork version.
Dawn Spencer, marketing director for meats at Kerry Foods, said: "There's been a noticeable attitudinal shift towards chicken sausages over the last couple of years. We had actually looked into NPD in this space back in 2015, but the timing wasn't quite right for our audience: families.
"However, modern families of today are increasingly interested in leaner, healthier proteins, so it's no surprise that the chicken sausages market is becoming a highly lucrative one. It is now worth GBP18.4m (US$25.9m) and growing 48%, driven primarily by the premium sector.
The chicken sausages, which have an RRP of GBP2.50 for a 400g pack, will be available from multiple grocers across the UK from this month, backed by a multi-media marketing campaign. They are not being sold in Ireland.
Weetabix On The Go Kids cereal drink debuts in April
Weetabix On The Go Kids breakfast cereal drink, which contains the same amount of sugar as a "glass of semi-skimmed milk," will arrive in UK supermarkets this April.
Designed for children aged five-to-ten years, the Post Holdings-owned company said the drinks provide the equivalent energy, fibre and protein found in one Weetabix Original cereal plus milk, and are a source of vitamin D and calcium.
Available in multi-packs of four at a recommended retail price of GBP3 (US$4.2), the 180-ml drinks come in three flavours – strawberry, banana and chocolate – and contain no artificial sweeteners or colourings.
Weetabix On The Go are now carrying the traffic light labelling system on its bottles, with no red warning lights across its range.

Beth Reeve, brand manager for Weetabix Drinks, said: "We know that parents want to deliver a good breakfast to their children, but fussy eating habits and our busy lives can sometimes get in the way.
"The new Weetabix On The Go Kids range is great as part of a nutritious and balanced breakfast or morning top up – ideal for hectic mornings and snacking while on the move.
"We have worked hard to ensure we keep sugar levels to a minimum without compromising on taste and we're proud of the fact Weetabix On The Go Kids has the same sugar content as a glass of semi-skimmed milk."
US drive-in giant Sonic launches products in stores
Sonic Drive-In is launching frozen ice pops, gelatins and puddings at retailers throughout the US this Spring.
Its popular drinks, including Cherry Limeade and Ocean Water, have been made available immediately.
Sonic is the US' largest drive-in restaurant chain, serving approximately three million customers every day.
"The addition of grocery store products allows fans to experience their favourite Sonic flavours at home in new and fun ways while also incorporating into recipes and entertaining," it said in its launch statement.
John Budd, chief strategy and business development officer for Sonic, said: "With the introduction of these new and exciting retail products, we're keeping Sonic top-of-mind by meeting current fans where they are and welcoming new fans to the brand where a drive-in does not yet exist."
The products will be available through licensing partners including Jel Sert Company (gelatin, pudding mixes and shelf-stable freezer bars), Ziegenfelder (frozen ice pops) and Quality Candy (lollipops and hard candy).
Warburtons new Bistro Deli Buns flatbreads land in Asda
UK baker Warburtons has launched Bistro Deli Buns, flatbreads made with extra virgin olive oil, grains, seeds and honey.
The pre-sliced Bistro Deli Buns, which complement Warburtons Sandwich Thins launched in 2011, and Toastie Pockets that hit the shelves last year, are now available in Asda stores and will roll out in Morrisons from 9 April, and thereafter in Sainsbury's, The Co-op and Ocado.
They come in two flavours: white, and malted grains and seeds.
Darren Littler, innovations and product marketing director at Warburtons, said the company is adapting to changing consumer needs, describing Bistro Deli Buns as a "delicious alternative to the sandwich that can be enjoyed by time-poor consumers hot or cold, at home or on-the-go".
UK biltong start-up Ember launches 'shot' format
Ember, the London-based biltong brand is adding a new on-the-go, 'shot' format to its range.
And, six months after the business was born, it has also secured UK supermarket listings with Sainsbury's and Waitrose for the full range.
Its products will also now be available through the UK delivery service Ocado.
The new 16g mini packs contain 10g of protein and offer bite-sized slices of biltong in an on-the-go format, which the company claims is a first for the biltong and jerky category. They have an RRP of GBP1.40 (US$1.96).
All Ember products are sugar free, gluten free, low in calories and available in two flavours; Original and Chilli.
The shots will launch front of store in 212 Sainsbury's stores from 8 April followed by 297 Waitrose stores from 25 April with the bigger 30g bags launching in the snacking aisle in 270 Waitrose stores (30 April) and Sainsbury's stores from July. Ocado will be listing the full range from 30 April.
By the end of 2018 Ember, set up by two brothers, is expecting to have sold 1.5m bags of biltong.
Ayoba-Yo takes South African biltong to US north east
US-based beef biltong and droewors maker Ayoba-Yo is expanding into the north east of the country after securing listings with Kings Food Market and Balducci's Food Lover's Market.
The addition of Kings & Balducci's grows Ayoba-Yo's footprint from Virginia to New York.
Ayoba-Yo is a family-owned company that was established in the family's kitchen a few years after it emigrated to the US from South Africa. It provides traditional South African beef snacks to the US market. Until now it has mainly operated around the Washington DC area.
Biltong & droewors are zero sugar beef snacks. Ayoba-Yo's products are also free from gluten, soy, MSG and nitrates.
"We are happy to be able to bring our South African recipe air-dried beef snacks to both South Africans craving a taste of home and quality food lovers along the east coast," said co-owner, Wian van Blommestein.
"We admire Kings & Balducci's commitment to carrying premium products with great taste and believe that our values are well aligned."
Ayoba-Yo's biltong & droewors products are currently available in more than 100 stores ranging from small independents to Whole Foods Market locations around the nation's capital.