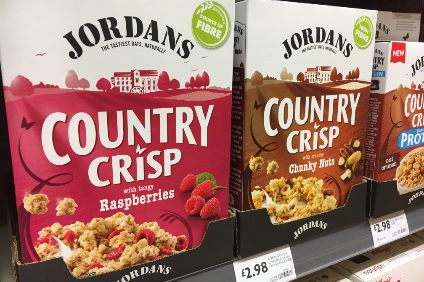 Associated British Foods (ABF) has said that uncertainty over Brexit, the UK's departure from the EU on 29 March, is impacting its operations.
Speaking to the Reuters news agency as the company issued a pre-close trading update, finance director John Bason said it is "unbelievable" a so-called 'hard Brexit', the UK leaving the EU without a trade deal in place, is on the table.
ABF is one of the UK's largest food producers with brands such as Jordans cereal, Kingsmill bread and Blue Dragon oriental sauces, and Bason said it has packaged grocery product exports in transit on the sea as Brexit approaches.
"We don't know now whether they will be considered to be an import from the EU or from a country that they haven't got a trading relationship with," Bason told Reuters. "For it even to be contemplated – a hard Brexit where you've got no arrangement with your major trading partners and when we're so reliant on them for the food supply chain – I find it unbelievable."
In its trading update, prior to releasing results for the 24-week period up to 2 March, ABF said Jordans and Ryvita achieved good sales growth in a number of international markets, while sales of Ryvita Thins grew in the UK, although profit declined due to increased raw material costs.
It added that work continues to reduce the operating losses at UK bakery arm Allied Bakeries.