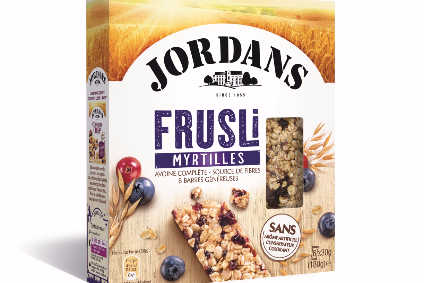 Associated British Foods has taken its Jordans cereal brand into France's cereal bar market.
The company, which sells a range of three Jordans breakfast cereals in France, has launched a line of three bars sold under the Jordans Frusli sub-brand.
ABF sought to tout the lack of artificial ingredients in its bars and said there was no added salt in the products.
The bars are sold in packs of six with a recommended price of EUR2.50 (US$2.79).
Pointing to IRI data, ABF said the Jordans brand has been "the number one contributor to the growth of the cereal category in France". The company's cereal range in France comprises Country Crisp, Special Muesli and Flocons d'Avoine.
Last week, ABF issued a pre-close trading update for the 53 weeks to 17 September. It does not provide details figures for the different elements of its grocery business but said international expansion had "driven excellent growth for Jordans and Dorset, which also increased their UK market share".
ABF said its grocery business, which also includes brands like Kingsmill and Tip Top bread, Mazola cooking oil and Patak's cooking sauces, would see revenues "marginally ahead" of the previous financial year on a constant-currency basis. Operating profit will be higher with "a further improvement" in margin.
The company is scheduled to report its annual results on 8 November.
Last week, Reuters claimed ABF was in talks to sell its US arm ACH Food to local group B&G Foods. A spokesperson for ABF told just-food that the company "never comments on speculation of this type". Representatives for B&G Foods were unavailable at time of press.