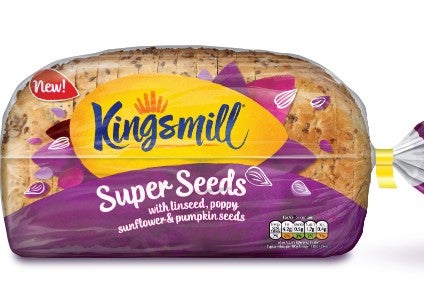 Losses at Allied Bakeries, Associated British Foods' branded UK bakery business, continue to mount amid persistent pricing pressures in the country's bread category.
Allied Bakeries, which owns the Kingsmill, Sunblest, Allinson and Burgen brands, faced a second consecutive year of challenging market conditions as retailers continue to shift to private-label products. ABF described the performance of the Allied Bakeries business as "unacceptable" and the UK bread market as "tough" as the group reported its full-year financial results today (6 November).
While ABF does not break down the financial results for Allied Bakeries, which falls within the company's grocery division, chief executive George Weston gave a hint of the losses when asked to quantify the magnitude during a Q&A session on a follow-up conference call with analysts.
"Given the importance of the price negotiations that is a hard question to answer, but the losses are in the tens of millions [of pounds]," the CEO said.
ABF said the UK bread market experienced an increase in wheat prices this summer, presumably as a result of the unusually hot weather spell, which affected crop yields, and in turn, profit margins. But the pressure on bread prices still remains in the hands of retailers, with ABF reiterating comments made last year that it will keep investing in new products within bakery.
The company will work to "address the unacceptable loss", ABF's slide presentation noted.
Last November, when ABF reported its results for the year to 16 Septemer 2017, the company reported challenges in the UK bakery market, which it associated with low retail prices, the resurgence of lower margin own-label products and inflationary pressures, resulting in a "significant margin decline" for Allied Bakeries.
In last year's earnings report, Weston said: "A difficult trading environment in the UK bread market led to a decline in revenues at Allied Bakeries and it sustained a loss. We are continuing to invest in our brands and we are working closely with our customers to improve the profitability of our bakery business."
Nevertheless, in the year under review today, despite the difficulties experienced by the bakery division, ABF's grocery business as a whole saw growth across all reporting metrics, albeit with a notable slowdown in revenues on an "actual" foreign-exchange basis.
Revenues rose 1% to GBP3.42bn (US$4.47bn), easing from the 9% pace seen last year. In constant-currency terms, revenues were up 4%.
Adjusted operating profit grew 11% to GBP335m, while the associated profit margin climbed to 9.8% from 9%. Constant-currency profits increased 14%, improving from the flat performance the previous year.
Summarising the results, Weston said: "It was a good year for the group. A lot of work has gone on, a lot of success sits behind our already very credible set of results. The grocery margin improvement is good. The profit growth in grocery is good to see."
Meanwhile, on Brexit, ABF did not seem overly concerned, although finance director John Bason said volatility in foreign-exchange rates is likely to rise as the negotiations drag on.
And Weston appeared to be speaking on behalf of the UK food industry in general by warning a so-called hard Brexit would have potential negative consequences, particularly on the supply chain.
"I think there will be limited medium-term consequences from Brexit for ABF in the food business and also [on clothing retail chain] Primark. Really, regardless of what the medium-term deal is we have a more isolated set of supply chains than some other food businesses.
"However, an abrupt exit, or an unmitigated departure from the EU, an unmitigated hard Brexit, does pose a significant risk to the UK food supply chain. In particular, if we lost the use of Dover and the Channel Tunnel routes for any length of time, it would be very difficult to keep the UK food-supply chain going adequately."