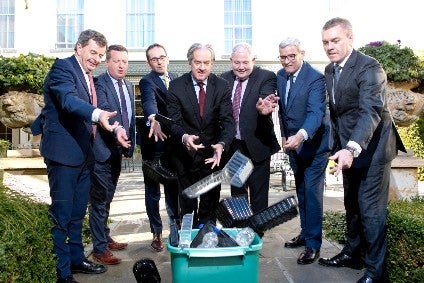 Meat processor ABP Food Group is among nine companies in Ireland to sign up to a newly-launched initiative to reduce single-use plastics in packaging.
Plastics Action Alliance will be chaired by Aidan Cotter, the former chief executive of Bord Bia. He served as head of the Dublin-based Irish food board from 2004 until early last year.
The Alliance will include a steering committee made up of senior representatives from each of the participating companies.
As well as meat giant ABP, which is owned by businessman Larry Goodman, the line-up encompasses Ireland's largest chicken processor, Carton Brothers-owned Manor Farm, major sheep meat processor Irish Country Meats and the country's biggest pork producer Rosderra Meats.
Completing the grouping outside of the meat sector are fruit distributor Keelings, Monaghan Mushrooms, and vegetable producer Country Crest. C&D Foods is the only non-food company. It makes consumables for pets and is a division of ABP.
Cutting the use of plastics in packaging has become a key global issue among manufacturers, with many multinationals in the food and drinks industry making commitments to boost the use of recyclable and compostable materials. Only last month, a raft of consumer-goods giants including Nestlé, Unilever and Danone signed up to a new initiative led by the The Ellen MacArthur Foundation.
The core aim of Ireland's Alliance is to "significantly reduce problematic single-use packaging from the supply chain" and find sustainable alternatives, working alongside leading researchers in the field.
Cotter commented: "The coming together of nine of the leading key players in Irish food production to look to arrive at solutions for the issue of plastics packaging is a significant development.
"These companies are leaders in their respective sectors and their combined experience will create a dynamic force that will likely punch well above its weight in seeking tangible solutions for the significant reduction of the use of plastic packaging on Ireland's supermarket shelves."