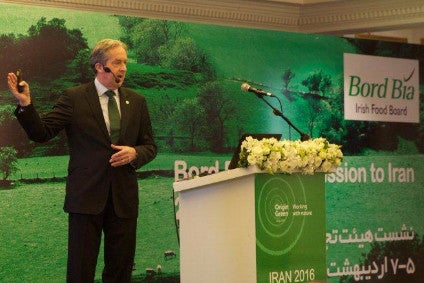 Ireland's ABP Food Group and Fane Valley Group have appointed former Bord Bia CEO Aidan Cotter as chairman of their joint venture business.
Cotter served as chief executive of Bord Bia, the Irish Food Board, from 2004 until his retirement in January of this year. Prior to this, Cotter was Bord Bia's director of operations and, earlier still, its European director.
In a statement, Fane said Cotter brought "a wealth of knowledge and experience in food marketing" to the position. The cooperative stressed that, under Cotter's leadership, Bord Bia successfully supported the growth of Irish food exports, which reached EUR11bn (US$11.8bn) in value in 2016.
"During his tenure as chief executive [of Bord Bia], he led the creation and roll-out of Origin Green, the world's first national sustainability programme for food and drink, and oversaw the establishment of Bord Bia's Consumer Insight Centre and the extension of its office network eastwards, opening new offices in Warsaw, Dubai, in Shanghai and in Singapore," Fane noted.
The joint venture is a 50-50 partnership between farmer cooperative Fane Valley and meat supplier ABP and includes international beef processor Slaney Foods, as well as sheep meat business Irish Country Meats.