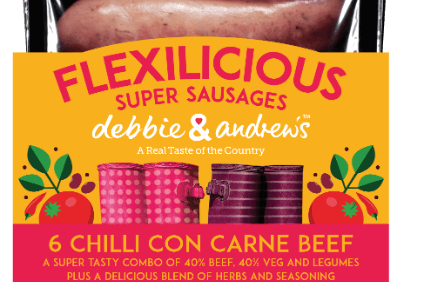 ABP Food Group is rolling out a raft of new sausage products sold under the Debbie & Andrew's brand in the UK.
The company has developed "high-protein" sausages, chipolatas aimed at children and a sausage aimed at tapping into the "flexitarian" diet, which is plant-based with occasional consumption of meat.
The Clean and Lean high-protein sausages are available in chicken and pork varieties. The chicken sausages are to be listed by Sainsbury's; the pork products by Asda.
Sainsbury's will also stock the new reduced-fat and reduced-salt Perfect Little pork chipolatas, which the company described as "slim and tender which research shows are preferred by youngsters". UK online retailer Ocado will also stock the products.
ABP Food Group is also marketing a Debbie & Andrew's sausage under the Flexilicious sub-brand. The company said the make-up of the Chilli Con Carne sausage – 40% beef and 40% vegetables – "follows the flexitarian trend". Asda will stock the line.
Ian Bagnall, managing director of the Debbie & Andrew's business, said: "Debbie & Andrew's aim is to make sausages that everyone can enjoy, from the young to the old and including those with food intolerances and allergies or people looking for a clean, lean eat. Our new recipes are still based on traditional values, putting succulence and satisfaction at the heart of the sausage, but they establish new nutritional or dietary boundaries as well."