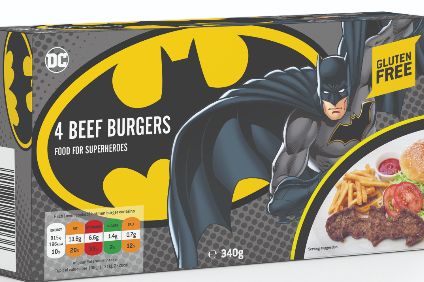 just-food publishes the most notable product development from the international food sector, presented in bitesize format to give you a flavour of the innovation from your peers and competitors announced this week.
ABP Food Group strikes licensing deal
Ireland-based meat processor ABP Food Group has teamed up with US entertainment company Warner Bros. and launched a range of sausages and burgers using DC superhero characters in the UK.
For example, the burgers will resemble the superhero logos of Batman, Superman and Wonder Woman.
Darren Jones, commercial director for ABP's UK arm, said: "This is a first for the fresh and frozen meat categories and a significant step in helping create "excitement" for, and, build interest in meat products for younger consumers."
The range has launched in selected Asda stores and will be available in other multiple retailers before the end of 2018.
Rachel Wakley, the general manager of Warner Bros. Consumer Products in the UK, added: "We are truly excited about delivering our DC characters to fans in this innovative, fun and extremely tasty way. We believe that ABP are bringing something special to the BBQ season across the UK this summer."
The price points are GBP2.50 (US$3.32) for a pack of four burgers and GBP2 for ten sausages.
Kashi launches healthy bar range
Kashi, the US firm owned by Kellogg, has launched a range of "health and wellness" bars in its domestic market in the shape of Kashi Joi.
Described by the company as offering an "elevated, multi-sensorial, real-food experience" Kashi Joi nut bars come in a variety of flavours – Raspberry Dark Chocolate Hazelnut, Pistachio Fig & Lemon, Coconut Cranberry Almond, Almond Butter Energy, Dark Chocolate Espresso Nut, Banana Chocolate Nut and Blueberry Maple Pecan.
All Kashi Joi products are non-GMO project verified, gluten-free, soy-free and kosher, with no artificial flavours or colours.
The bars are available individually or by the dozen.
Chet Dhole, senior brand manager for Kashi in Canada, said: "The wellness aisle in any grocery store can be overwhelming with consumers often sacrificing taste for familiarity. Kashi Joi is shaking that up with purposefully selected ingredients and carefully crafted flavour combinations to satisfy the unmet need within the growing health and wellness market."
General Mills introduces low-sugar YQ by Yoplait
General Mills has launched a low-sugar, high-protein version of its Yoplait yogurt in the US.
YQ by Yoplait Plain has 1g of sugar per serving, while flavoured varieties have 9g.
General Mills suggests this is 40% less sugar than the leading Greek low-fat yogurt.
YQ by Yoplait Plain is made with ultra-filtered milk that contains 17g of protein in each 5.3oz serving. Flavoured yogurts have 15g of protein and are available in Coconut, Peach, Mango, Lime, Strawberry, Blueberry and Vanilla varieties.
Plain and Vanilla are also available in 26oz tubs.
Doug Martin, vice president of marketing for Yoplait USA, said: "Through our use of simple ingredients, ultra-filtered milk and active cultures, we've created a protein-packed, less sweet flavour profile with a thick, smooth, extra creamy texture. It's unlike anything that exists in the yogurt aisle today."
It will be available in major grocery and retail stores across the US beginning in late June. The RRP for all 5.3oz. cups is US$1.49, while the 26oz tubs are $4.99.
Nestle launches organic infant formula in UK
Nestle has launched organic versions of its SMA Nutrition infant formula in the UK.
The world's largest food maker said the milk used to make SMA Organic First Infant, Follow-on and Growing Up Milk is sourced from "certified organic farms".
The range is available now in Tesco, online grocer Ocado and drugs store chain Boots. The products will be launching in "all remaining major retailers throughout June and July", Nestle added.
The products have an RRP of GBP13.99 (US$18.44).
PepsiCo's Doritos Collisions return to UK
The US snacks giant is relaunching its Doritos Collisions snacks brand in the UK, a decade after introducing but then pulling the line from the market.
PepsiCo has rolled out two 162g sharing packs – a bag containing Honey Glazed Ribs and Lemon Blast corn chips and another with Habanero Chilli and Guacamole corn chips. They have an RRP of GBP1.99 (U$1.32) and "stocked in all major retailers", PepsiCo said.
The company added: "Doritos Collisions was launched in 2008 with two flavours, T-Bone Steak & Grilled Pepper and Chicken Sizzler & Zesty Salsa. The range performed well, but came out of market, as we continually review and update our offering to ensure we are meeting changing consumer needs.
"These new variants of Doritos Collisions has performed strongly in other markets, such as Canada, United States and Australia, and we are confident we will see positive results replicated in the UK."
Haribo launches Squidglets in UK
German confectionery giant Haribo has extended its range in the UK with the launch of Squidglets.
Described as a new soft textured recipe, Squidglets feature six cube shapes with "fun expressions" available in a variety of flavours and colours, including a pink strawberry-flavoured heart face, a green apple-flavoured tongue face, a blue raspberry-flavoured smiling face, a purple cherry-flavoured winking face, a brown cola-flavoured shocked face and a white vanilla-flavoured innocent face.
The company said Squidglets will appeal to consumers that prefer Haribo's soft-to-eat sweets.
Alison Satterthwaite, brand manager for Haribo in the UK, said: "Customer insight has shown that soft-to-eat treats are becoming increasingly popular, so we are happy to add a new recipe to our range, giving consumers even more choice and a further opportunity to share and enjoy."
Squidglets are available in a range of pack formats, including 140g with an RRP of GBP1.29 (US$1.71).
Bol Foods debuts dairy-free Veg Pot
The UK's Bol Foods has added to its dairy-free product range in the shape of the Keralan Coconut Curry Veg Pot.
The London-based company announced earlier this year it would be removing dairy from all of its products this summer (following its dropping of meat and fish in 2017), becoming 100% plant-based.
Removing all dairy means six of Bol's recipes will be reinvented to be entirely plant-based. Its new "globally-inspired" recipes, including this launch, will be "as colourful, nutritious and delicious as ever," the company suggests, developed in collaboration with a series of chefs and nutritionist Ian Marber.
The Keralan Coconut Curry Veg Pot is available from Tesco and via Ocado with an RRP of GBP3.00 (US$3.95).