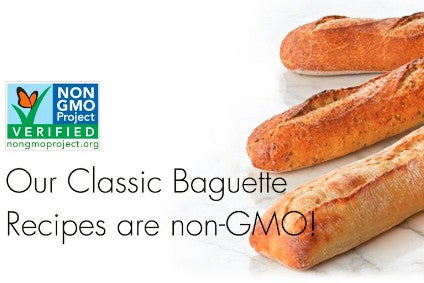 Canadian artisan baker, ACE Bakery, has attained Non-GMO Project Verification for its line-up of full size baguettes.
Ace Baguettes bearing the Non-GMO Project Verified seal will appear across Canada this month, the company revealed.
The verification was awarded by The Non-GMO Project. The verification confirms that the five "simple, premium ingredients" that have always been used in the Ace Baguette are not sourced from genetically modified crops, the company said.
"Since 1993, Ace Bakery has been committed to baking artisan breads of the highest quality with ingredient transparency and traceability being of utmost importance," Roy Benin, president of Ace Bakery, commented. "Pursuing Non-GMO Verification was a natural next step for us, providing an opportunity to demonstrate our commitment to customers while also highlighting our leadership in the category."
Verification of the Ace Baguette represents the first phase of Ace Bakery's plan to verify their artisan portfolio by the end of 2016, the company revealed.
Ace said the drive to GMO-free certification comes in response to growing consumer demand for GMO-free products. "Research indicates that choosing food items that are Non-GMO Verified is the second biggest priority for consumers while shopping – even more important than purchasing items that are local and organic," marketing manager Sophia Rouleau explained.