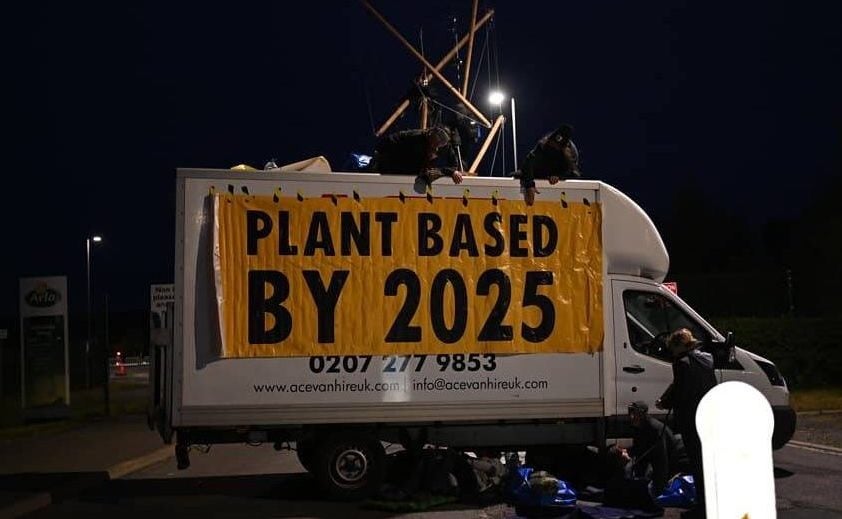 Vegan and environmental activist group Animal Rebellion attempted to blockade an Arla Foods milk facility in the UK yesterday (31 August).
The facility was impacted for more than 19 hours until the last protestors were removed by police.
Around 50 protestors arrived at 5am and locked themselves on to barricades at the Danish dairy firm's milk distribution site in Aylesbury, Buckinghamshire, north of London, in an attempt to get the company to agree to transition to plant-based production by 2025.
The activists said they would not leave until the company agreed to its demands but the first protesters were taken away around noon, as police cutting teams arrived on site and removed them from one of the bamboo structures they had erected.
All protestors were removed from blockades by 10:30pm after almost 20 hours. The group then camped at the site overnight.
Animal Rebellion, which has previously gained attention for using civil disobedience to demand that companies transition to a plant-based food system, claims that Arla and other dairy companies emit more greenhouse gases than some mining companies and oil producers.
It is calling on Arla to transition to plant-based production by 2025 to address the "catastrophic impacts dairy production has on the climate and animals".
James Ozden, a spokesperson for Animal Rebellion, said: "The recent IPCC report issued a code red warning on the impacts of the climate crisis. It spoke of a need for urgent action from our government to address carbon emissions, including methane which is in large part a by-product of animal farming.
"Companies like Arla claim to be leading the way in tackling the climate crisis, yet until these big multinationals start to talk seriously about the inevitable need to transition our food system to one that is plant-based, their words are empty."
Animal Rebellion said yesterday's event was part of the 'Rebellion' – two weeks of direct action demanding urgent action from the government on the climate and ecological emergency.
Just Food has asked Arla for its response to the blockade and Animal Rebellion's claims.
Read Just Food's analysis: How dairy is wrestling with climate impact