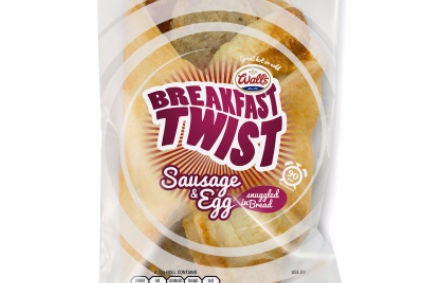 Addo Food Group, the UK savoury products maker, is to launch a Wall's product targeted at consumers looking to eat breakfast on-the-go.
The company has developed Wall's Breakfast Twist wraps, which will be sold in UK convenience retailers.
"Wall's pastry products are synonymous with on-the-go consumption; therefore, coupled with the rising trend for eating breakfast on the move, we're confident that the Wall's Breakfast Twist is going to prove a big hit with consumers," Kim Burgess, head of markets at Addo Food Group, said.
Two wraps will be available – sausage and egg, as well as bacon and egg – at an RRP of GBP1.69 (US$2.42).
Addo Food Group, then known as Pork Farms Group, acquired the rights to Wall's chilled savoury products from Kerry Group last year, as part of its purchase of the Irish company's UK chilled savoury pastry business. Kerry retained the Wall's trademark for sausages. Pork Farms Group changed its name to Addo Food Group in September.