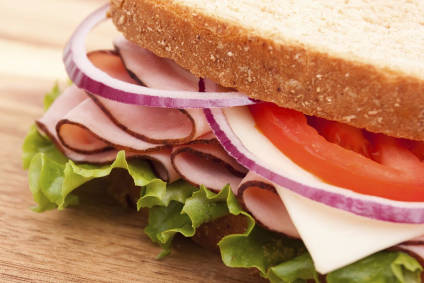 The French food safety agency, ANSES, has issued national updated dietary guidelines urging consumers to "considerably reduce" their consumption of meat and delicatessen products and boost intakes of pulses and vegetables.
ANSES has recommended the French cut back on "delicatessen meats" such as ham, dried sausage, sausage and pâté so consumption "does not exceed 25g per day". Consumption of meat, excluding poultry, such as beef, pork and lamb "should not exceed 500g per week", the agency said.
The agency reaffirmed advice for "twice-weekly consumption of fish including an oily fish such as sardines, and mackerel" and urged consumers to "limit" consumption of sugar-sweetened beverages. "Consumption of fruits and vegetables remains crucial and must be reinforced, giving preference to vegetables. ANSES also stresses that consumption of sugar-sweetened beverages (such as sodas or fruit juices) should be limited to less than one glass per day."
The new recommendations reflect updates to France's National Health and Nutrition Programme (PNNS) guidelines and follow advances in research and "developments in scientific data on different food groups and on physical activity" relating to sections of the population including the elderly, children, adolescents, pregnant and breast-feeding women, ANSES said.
However, the French federation of industrial charcuteries, caterers and meat processors, FICT, said the 25g recommended daily limit on delicatessen products was "twice as low" as guidance from the World Health Organization's International Agency for Research on Cancer. FICT asked: "How is such a difference justified?
The composition of products such as sausage had "evolved considerably in recent years" in relation to reducing salt, fat and removing a number of additives, FICT said. "It is the over-consumption by some people that poses a real public health problem, regardless of the food."
But FICT said it welcomed ANSES' acknowledgement that the effect of the amount and types of food consumed is "dependent on the metabolism and physiology of the individual".
According to ANSES, its updated recommendations take into account "nutritional requirements and prevent the risk of chronic diseases associated with the consumption of certain food groups, while limiting exposure to contaminants found in food". The guidelines "also had to take into account the dietary habits of the French population, in order to facilitate the effective adoption of the guidelines developed," the agency said.
"Certain nutrients, in particular sodium and sugars, still present major public health challenges associated with excessive consumption," ANSES said. "Concerning sugars, the available data cannot be used to distinguish the health effects of sugars naturally present in food from those of added sugars. Nevertheless, evidence is converging towards the harmful effects of high sugar intakes, above a maximum intake limit. In order to reduce total intakes for the most exposed populations, it seems vital to control the consumption of foods that are vectors of added sugars and, in particular, to take action on beverages."
ANSES said it now plans to study "the health effects of the frequencies or structuring of food intakes in the day, as well as the different consumption contexts".
The agency said in the longer term "other issues added to the specific nutritional questions may be taken into account for establishing food benchmarks, in order to include them as part of a comprehensive and sustainable approach". In particular, ANSES said it might consider issues relating to carbon footprint or socio-economic issues such as the cost of products, which in turn could "ultimately form the basis of the consumption guidelines".