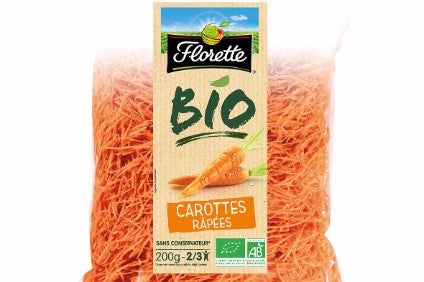 French agri-food co-op Agrial is looking to increase the presence of flagship produce brand Florette in the country's growing organic sector.
Agrial said it was launching a "complete" range of prepared organic produce lines under the Florette brand.
Florette is already present in the category but the move marks a concerted push by Agrial to try to tap into an expanding part of the French food market.
Citing data from local industry body Agence Bio, Agrial said French organic sales reached EUR7bn (US$8.29bn) in 2016.
The research from Agence Bio showed nine out of ten consumers in France are buying organic, with 69% of those shoppers stating they purchase the products "regularly".
Agrial said data from Nielsen showed the supermarket channel was the largest for organic sales and had seen sales grow by 17% last year.
The co-op, which already markets organic rocket in France, is launching products including organic lamb's lettuce, batavia lettuce and grated carrot.
Agrial said the new range is available in the "majority" of French grocery chains without specifying further.