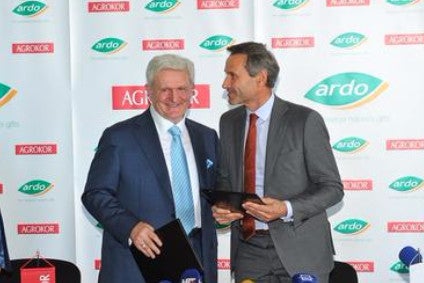 Croatian food maker Agrokor Group has sold a 50% interest in a domestic plant to Belgium's Ardo Group, with the two companies forming a joint venture to produce frozen fruit and vegetables in eastern Europe.
The agreement, which the companies said is worth EUR50m (US$56m), will see both companies become equal owners of Agrokor's Vinka factory in the Croatian town of Vinkovci.
The firms said the move would see Vinka "becoming a leading manufacturing plant of frozen fruits and vegetables in eastern Europe". Ardo and Agrokor said they will deliver growth through "strong investment", as well as knowledge-sharing and economies of scale.
The Vinka processing plant will benefit from "significant investment" to increase production capacity from the existing 15,000 tons to 60,000 tons of frozen fruits and vegetables. The companies noted that this will create a "large number" of new jobs at the facility.
The increase in production will see Vinka raise export levels from Croatia to "more than 60 different markets worldwide", the companies noted.
Commenting on the tie-up, Ardo said it represents a "further development" of its business in central and eastern Europe.
Bernard Haspeslagh, Ardo's chief operations officer, said: "Agrokor's agricultural potential combined with Ardo's industrial knowledge will create a leading production in eastern Europe. We strongly believe in the agricultural potential of the Danube valley. The combination of the productions of both the Vinka facility and Ardo's existing Austrian facility in this fertile valley, will create a complementary product range for the eastern European market."
Speaking to just-food, a spokesperson for Ardo said the Belgian group's plant in the Austrian town of Gross Enzersdorf would remain open. "The cmbination of production means that both factories produce different vegetable products and the combination of these different vegetable ranges result in a complementary product range," the spokesperson said.