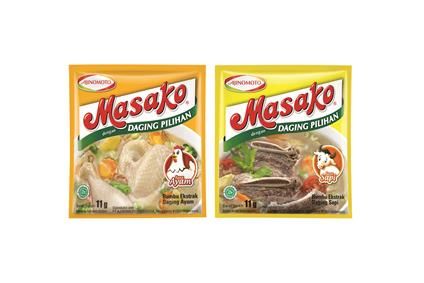 Japanese seasonings giant Ajinomoto Co. is investing JPY3.2bn (US$28.5m) to expand production capacity of its Masako seasoning brand in Indonesia by 30%.
The company said that sales volumes of Masako, which is used as a "general seasoning" providing chicken and beef flavour, have increased by around 12% annually in Indonesia since 2011. The brand is the market leader in the country with a 60% share of the Indonesian seasonings sector.
"Ajinomoto Indonesia will increase production capacity to meet expected growth in sales volume from introduction to new users and increased purchases by existing users," the company said in a statement today (25 February).
Masako is currently produced at two locations: the Mojokerto Factory in East Java and the Karawang Factory in West Java. Ajinomoto is constructing an additional building at the Karawang site. This facility will produce beef-flavoured Masako, which is currently produced only at the Mojokerto Factory. This will increase total production capacity for Masako at the two factories by approximately 30%, the company said. Construction is slated to start in April and production is expected to commence in July 2017.
As part of its medium-term management strategy, Ajinomoto has prioritised growth in various international markets, including Indonesia. The company has said it wants to become one of the top ten largest food manufacturers worldwide.
Ajinomoto aims to increase overseas sales through "rapid growth" in what it has defined as the "five stars" markets. Between now and 2016, Ajinomoto wants to treble sales in Indonesia, the Philippines, Vietnam, and Brazil, while doubling sales in Thailand.