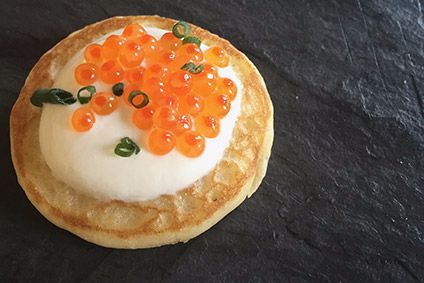 Ajinomoto has struck a deal to acquire French frozen food supplier Labeyrie Traiteur Surgelés as part of the Japanese food and ingredients group's strategy to "strengthen" its consumer-facing business in Europe.
Labeyrie Traiteur Surgelés is a unit of French food company Labeyrie Fine Foods, which predominantly manufactures chilled food such as foie gras and smoked salmon.
Ajinomoto has agreed to pay JPY2.7bn (US$24.1m) for Labeyrie Traiteur Surgelés, a business centred on France that sells desserts and apéritifs under the Labeyrie brand, as well as appetisers under the Blini brand. According to the Labeyrie Fine Foods website, the business also manufactures own-label products.
In its statement announcing the acquisition, Ajinomoto did not disclose whether it would retain the rights to market desserts and apéritifs using the Labeyrie brand.
Citing Euromonitor data, Ajinomoto described the market for frozen food in Europe as "huge" and "growing steadily", with sales at EUR41bn (US$47.66bn) in 2016.
Ajinomoto's frozen food sales in Europe stood at around EUR45m in its 2016 fiscal year, mainly through supplies to the foodservice sector. In May, the company announced a push behind its products in France's retail market.
It said it would add Labeyrie products to its business with restaurants in the region, while using the French firm's distribution into retail to boost its own sales in that channel. Ajinomoto also plans to roll out Labeyrie's products into other countries.
In a statement, Ajinomoto said: "Ajinomoto Co. has set a key strategy of ensuring growth in its foods products business with a stronger regional portfolio and aims to be the clear number one in the Asian frozen foods market by rolling out its specialty products in North America and Europe."
In February, Ajinomoto reportedly said it wants to grow its business in Europe, with plans to expand in the region via a US$1.3bn M&A war chest.
According to a report in The Financial Times, Ajinomoto is looking for acquisition targets in markets including the UK, Germany and France.