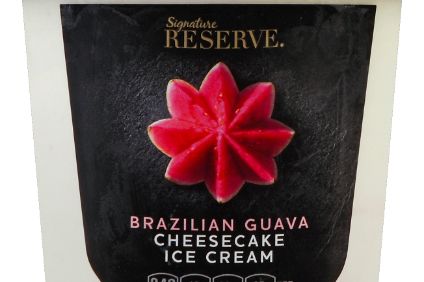 just-food publishes the most notable product development from the international food sector, presented in bitesize format to give you a flavour of the innovation from your peers and competitors announced this week.
US retailer Albertsons launches own premium brand
Albertsons, the US retailer, has launched Signature Reserve, an "ultra-premium own brand with top-shelf presence".
The new brand joins the company's line-up of Signature brands, which account for nearly US$6bn in sales.

The initial launch of Signature Reserve is in ice cream, including Brazilian Guava Cheesecake, Madagascar Vanilla, Colombian Cold Brew Caramel, Bourbon Maple Blondie, Indian Cardamom Pistachio, Caramel Apple Chai, and Belgian Chocolate Almond.
Geoff White, president of Albertsons Companies own brands, said: "Shoppers are more educated and interested in culinary trends than ever before, and Signature Reserve will surprise and delight them with unique and exciting products that are found only in our stores."
The ice creams are now available at Albertsons Companies stores across the US.
The company plans to introduce additional new Signature Reserve products in other categories throughout 2018, including pasta and pasta sauces imported from Italy.
Emmi teams up with Mymuesli with organic breakfast drinks, yogurts
Swiss dairy group Emmi is teaming up with German-based breakfast brand Mymuesli with the launch of four organic and low-in-sugar drinks and yogurts.
The breakfast drinks use blends of spelt, oats and flaxseed, milk and fruit, while the yogurt snacks combine natural yogurt with muesli.
Emmi Mymuesli Natural-Blueberry Yogurt Snack contains granola, sunflower seeds, and dried apple and cranberries.
Emmi Mymuesli Natural-Chocolate Yogurt Snack comes with organic chocolate and cereal crispies.
Emmi Mymuesli Apple and Banana Breakfast Drink is an organic mixed milk product complete with fruit and cereal.
Emmi Mymuesli Strawberry and Blackberry Breakfast Drink is an organic milk drink with berries and cereal.
In Switzerland the products are available in Coop supermarkets, and in Germany, select outlets of retailers Edeka, Rewe and Kaufland are stockists, as well as Mymuesli stores and online. All the products have a recommended retail price of CHF2.50 (US$2.53).
Danone launches Yoothie in France
French dairy giant Danone has launched Yoothie, a yogurt smoothie product, in its home market.
It has already been launched in Austria, Belgium and Italy.
Yoothie is made with 100% French milk and contains no colourings or preservatives. It contains just yogurt, fruit (17%) and cane sugar (less than 6.5%).
It is available in three flavours – Mango-Passion, Cassis and Raspberry – in 250g containers.
Tyson Foods fights food wastage with Yappah debut
Tyson Foods' innovation arm is launching its first product under the Yappah brand, which aims to fight food wastage by using "upcycled proteins, rescued vegetables and rescued grains".
Protein Crisps debut today (31 May) on the Indiegogo crowd-funding platform followed by a 90-day pilot at "one Chicago-based supermarket in July", the US-based meat giant announced. Yappah was inspired by a tradition in the South American Andes called 'yapa', which refers to the "little something extra a merchant gives to a valued customer so that nothing gets wasted".
Tyson said it provides upcycled chicken breast trim and combines it with rescued vegetable puree or spent grain from Molson Coors' beer brewing to create Protein Crisps' four flavours: curry flavoured chicken carrot; mojo flavoured chicken celery; Chicken IPA White Cheddar; and Chicken-Shandy Beer Flavoured.
Rizal Hamdallah, head of Tyson Innovation Labs, said: "We could not have developed the Protein Crisps without the enthusiastic collaboration of partners like Molson Coors. We will continue to seek out other great partners, large and small, who have resources and goals that complement our own."
Nestle in Gerber baby-food push in China
Nestle is planning to roll out a raft of baby-food products in China under its Gerber brand.
The world's largest food maker is set to launch "new healthy snacks" and "dozens of transparently packaged puree products" this year.
Nestle is looking to tap into the growth of the cross-border e-commerce, or CBEC, market in China. At the start of the year, Nestle set up a CBEC business unit to focus on the channel.
Since then, Nestle has launched sales of two of its European baby-food brands – Guigoz and Beba – in China.
David Zhang, the senior vice president of the cross-border e-commerce business of Nestlé's Nutrition arm, which includes infant nutrition, said: "After market cultivation and user education in recent years, China's complementary baby-food category has entered a double-digit rapid development phase online.
"Meanwhile, the acceptance and consumption level of food categories include rice flour, fruit and vegetable puree, healthy snacks and many other sub-categories in the Chinese market is still far below the mature markets in Europe and America. Through effective consumer education and channel penetration, the market growth potential will be enormous and immeasurable."
Quest Nutrition unveils Tortilla Style Protein Chips
California-based Quest Nutrition has launched Tortilla Style Protein Chips.
The better-for-you snack company said the product features at least nine times the protein of conventional chips and approximately 75% lower net carbs. Each bag contains 18-19 grams of protein and 4 grams of net carbs.
The snacks contain less than 1 gram of sugar and no soy and they are baked, rather than fried.
The chips are available in Nacho Cheese and Ranch flavours.
Suzanne Ginestro, chief marketing officer at Quest Nutrition, said: "It is our goal to support consumers on their wellness journey by giving them foods they crave in protein-packed, low-carb options."