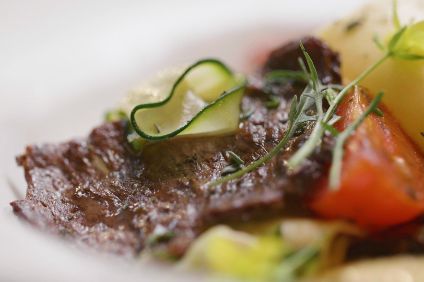 Aleph Farms, which has created the first steak in a laboratory from animal cells, has said it could be another four years before it is available to consumers.
The food-tech business has received widespread coverage over the past week for creating the first cell-grown minute steak, which is said to has the appearance, shape, and texture of beef cuts.
It said the prototype demonstrates its capabilities for growing different types of natural beef cells isolated from the cow into a fully 3-D structure similar to conventional meat.
But Aleph Farms co-founder and CEO Didier Toubia told just-food: "It will take two more years of development before we have got a fully commercial product.
"And, on top of that, we have one or two more years to build up the production capability for large quantities, so three to four years in total.
"The texture is good and the taste is good and it smells of meat but there is a small gap in taste. It is good but we have more work to do."
Toubia, a food engineer and biologist by profession, said what differentiates Aleph Farms from US firms working in the same sector is that it is trying to create a pure meat product.
Other companies are producing beef, chicken, duck and pork cells in the lab but for unstructured items such as burgers and nuggets.
"Aleph's ability is to grow real meat which is very complex. It is muscle, fibre, connective tissues and fat. Creating a structure similar to convention meat is very unique," Toubia said. "It is not like processed food like sausages and chicken nuggets."
Aleph Farms said one of the barriers to grown meat production has been getting the various cell types to interact with each other to build a complete tissue structure as they would in the natural environment inside the animal.
"The challenge is to find the right nutrients and their combination that would allow the multi-cellular matrix to grow together efficiently, creating a complete structure," it said in a statement.
The company overcame this obstacle thanks to a bio-engineering platform developed in collaboration with the Technion – Israel Institute of Technology – in Haifa.
Aleph Farms suggested successfully grown slaughter-free steak negates the need for utilising vast tracts of land, water, feed, and other resources to raise cattle for meat.
"My whole career has been about trying to make an impact in what I am doing. Where you can have the most impact today is in food," Toubia said. "Food is critical for health. Managing the food supply is critical as is the earth's resources. The food industry is becoming the most critical industry with the most big challenges in the 21st century."
Asked about criticism that what he is creating is 'Frankenstein food', Toubia said: "This is an important question. What we are producing is not genetically-modified and not highly processed.
"We truly believe in nature and we are reproducing a natural process that goes on inside an animal. Technology and humanity finds ways of improving nature as it has in areas such as electricity where it can be stored and delivered in controlled conditions. What we are doing with meat is the same."
The minute steak prototype costs US$50 for a small strip but Toubia said this will bear no relation to what a marketable product will cost.
"The cost of the product will be completely different. It is not yet something that is scaleable," he said.
"Fifty dollars is still high but not like the first burger that was created in London and cost $320,000."
Aleph Farms was founded in 2017 by Israeli food-tech incubator The Kitchen, a part of Israeli food company Strauss Group, and the Technion. The company is supported by US and European venture capital firms.