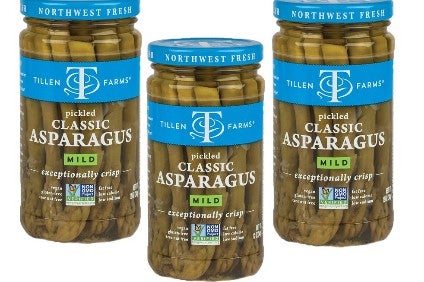 US-based speciality food manufacturer Stonewall Kitchen has acquired local pickled vegetable business Tillen Farms for an undisclosed sum.
Maine-based Stonewall can trace its origins back to farmers' markets in the 1990s. Today it produces jams, jellies, sauces, condiments, dressing and baking mixes.
It has more than 6,000 wholesale accounts in the US and internationally, as well as catalogue and web divisions and ten retail store along the east coast of the US.
Tillen Farms' pickled vegetables are primarily grown in Washington's Yakima Valley and are available in varieties of asparagus, dilly beans, carrots, and snap peas. It also produces pitted and stemmed cherries.
John Stiker, chief executive officer of Stonewall Kitchen, said: "We have long admired the premium quality and variety of Tillen Farms' delicious products, from their pickled asparagus spears and dilly beans to their signature Bada Bing cherries.
"The product line is completely complementary to the speciality food categories we currently offer and provides us with an immediate leadership presence in the cocktail garnish category.
"We also see great synergies between these two speciality food brands, from innovative product development to expanded distribution, and we are excited about the opportunity to grow Tillen Farms alongside Stonewall Kitchen."
Tim Metzger, the founder and owner of Tillen Farms, said: "After growing the Tillen Farms brand over the last 13 years, I couldn't imagine a more perfect partner than Stonewall Kitchen to help take the brand to the next level. We share similar values of providing superior product quality, clean ingredient labels, and predominantly US-based sourcing and manufacturing."