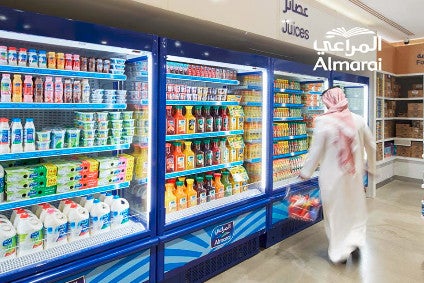 Almarai has become the latest food major operating in the Middle East and north Africa to face a boycott after the Saudi Arabia-based firm's local price hike on milk angered consumers.
The company is the subject of a campaign on social media urging consumers to shun its products. Almarai has pointed to rising energy and labour costs for the price rise.
Further west, Danone has seen its business in Morocco come under fire from consumers angry at the cost of living in the north African country.
Almarai, Saudi Arabia's largest dairy company, has lifted the price of a litre of milk by SAR0.25 (US$0.07), Bloomberg reported.
However, Saudi Arabia's Consumer Protection Association has reportedly issued a statement questioning the reasons Almarai has given for the increase.
"The association, out of its responsibility to protect consumers from increasing prices, asserts that what Almarai had mentioned in its statement is vague, inaccurate and had no details," Saudi Arabia's Consumer Protection Association said, according to Saudi Arabia-based broadcaster Al Arabiya .
"The production costs mentioned in the statement had not changed recently, especially diesel, which is the main component for operating the machines for production and the main fuel for transportation and distribution."
In 2017, Almarai's revenue fell 2.8% to SAR13.94bn. The company's operating profit grew 2.6% to SAR2.58bn. Its consolidated profit increased 1.6% to SAR2.18bn.
A boycott of Centrale Danone started in April, with criticism over the price of products and allegations about their quality. The company insisted it had not increased prices for five years
Centrale Danone, in which Danone owns a 99% stake, has lost 50% of its market share in fresh milk due to the boycott.
Last week, Danone CEO Emmanuel Faber said the company would not quit Morocco but admitted it will take months to address the fallout from the boycott and regain consumers' trust.
Faber said Centrale Danone is planning to sell milk at the cost of production without making a profit if a new deal can be reached with farmers.