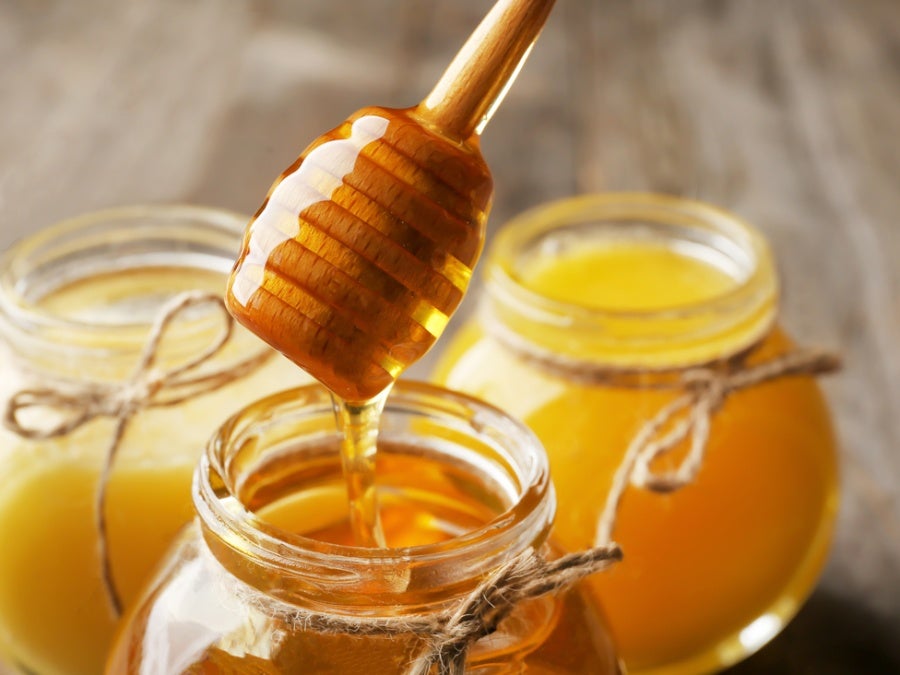 Almost half of the honey imported into the EU could be "adulterated" and around 60% blended with extraneous sugars, an EU investigation has found.
Of honey tested as part of the investigation, 46% did not meet the Honey Directive – EU legislation which outlines what can be labelled honey.
EU legislation dictates that nothing can be added to honey. But packers have been found to "adulterate" it by watering it down or blending with a sugar syrup to make the product cheaper and ensure flavour profiles remain consistent.
Analysis also found additives and colourings had been added and pollens removed to make the source of some honey harder to detect.
Cindy Adolphe, policy consultant at EU NGO BeeLife and the European Professional Beekeepers' Association (EPBA), told Just Food the results were unsurprising.
"The market is really bad. In the UK, for example, it's no secret that what is on the shelves in supermarkets is not honey, it's a sugar-syrup blend.
"I think professional beekeepers were not surprised [at the figures]. It's well known and beekeepers have been saying for ten years that there is something wrong on the honey market. But now we have proof. Now we need a solution – we need full transparency, a clear labelling of origin for blended honey and standardised analytical methods – modern methods, not the obsoletes ones."
Forty-four EU operators have been investigated and seven sanctioned following tests of 320 samples by EU health and scientific agencies and European Anti-Fraud Office.
The highest number of suspicious consignments in the testing came from China (74%), although honey originating from Turkey had the largest amount proportionately, at 93%.
UK-imported honey was found to be 100% "suspicious" but the report noted that was "likely the result of honey produced in other countries and further blended in the UK before its re-export to the EU".
The report said there is a "strong suspicion" that a "large part" of suspected adulterated honey remains undetected on the EU market.
It called upon food business operators at all stages of production, processing and distribution to comply with honey regulations. It suggested increased controls on the market and at EU borders and updated investigation techniques could help reduce adulterated honey entering the market.
Adolphe said some packers are capitalising on strong market demand for honey and its image as a healthy product. "People are capitalising on the good image of bees and of honey. So there's a market opportunity. If you are blending with a product around EUR1 (US$1.07), you earn more money. But it is not for fair, it's fraud.
"It's crazy because, at least in France, there is no market. Nobody is buying honey for the moment. The professional beekeepers cannot sell their products because at the international level buyers can get it for a cheaper price. In Europe, the cost of production has increased a lot for beekeepers. European professional beekeepers are struggling – when not dying – in Spain, in Hungary, in France, etc."
The report also notes limitations in authentication methods used to ascertain honey authenticity, saying they "lag behind and lack sufficient sensitivity". "Fraudsters are adapting the level of adulteration with extraneous sugars in honey to this analytical capability," it adds.
Adolphe said "beekeepers around Europe are asking for new methods to be standardised" in order to help tackle adulteration.
"The syrups they are using to blend with honey are getting more sophisticated and it's becoming harder to find them. Now labs and some packers have methods to find them, but they are not standardised yet.
"That's why the beekeepers are calling for 'new' testing methods to be standardised, like LC-IRMS or NMR."
She said she hopes the study raises awareness for consumers and that change is brought about at an industry level.
"We need also to import honey because we cannot produce enough of it for consumption demands, that's why we import 40% of what we consume. But what the beekeepers and bees need is a safe place full of diverse and melliferous resources – without pesticides. We need bees more than ever for pollination and food production," she said.
"I hope that the consumer will read the label and that the packers and the industry will focus on quality so that the beekeepers can get the price they deserve. If the beekeepers die then there's no pollination, and that questions food availability in Europe. It's more than honey you are buying."