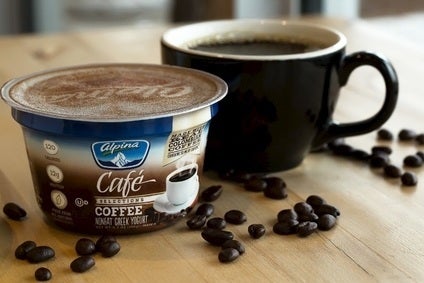 Colombia-based dairy group Alpina is launching a range of coffee-infused yoghurts in the US.
Alpina said the yoghurts were a market-first as they contained "real Colombian coffee and not coffee flavouring found in the dairy aisle"
The range comprises Mocha, Caramel Macchiato, Vanilla Latte and Coffee lines. Alpina said the products, which contain Greek yoghurt, were an "excellent source of calcium" and "includes protein and caffeine".
"Thirty-four percent of Americans drinks coffee, higher than soda consumption. Speciality coffee makes up a large percentage of this growth which is why we decided to launch Alpina Café Selections," said Gustavo Badino, general manager of Alpina's US arm Alpina Foods. "We are always looking to innovate in the dairy aisle. Once we found a recipe that tasted just like the consumer's favourite flavour and were able to include actual Colombian coffee, we knew we had a unique product the consumer would want and enjoy."
Alpina Cafe Selections will be sold in retailers across the US, including ShopRite, Shaw's and Fairway Markets.