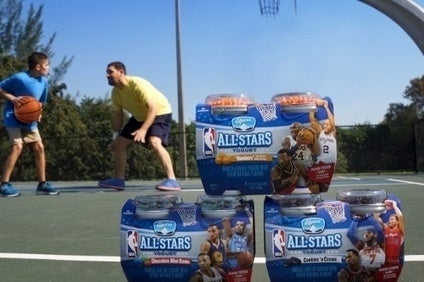 Alpina Foods is launching NBA All-Stars yoghurt, a low-fat, high-protein, calcium-rich yoghurt line, in the US.
The Colombia-based dairy company said each pot contains 120 calories, four grams of protein and 10% of an adults RDA of calcium.
The range is targeted at a male audience, said Gustavo Badino, Alpina Foods' general manager. "We saw a need for a product that catered to the American male-youth or adult in the yogurt section, and we decided to take the challenge and introduce this NBA All-Stars product."
The range will be available at retailers throughout the US and Alpina has secured listings with A&P, Pathmark, Waldbaum's, Super Fresh, The Food Emporium, ShopRite, Shaw's, and Lowe's Markets.