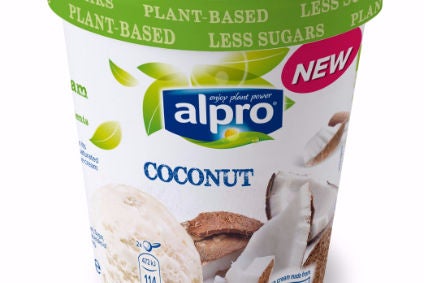 The Alpro brand is being taken into the frozen category in the UK and Ireland with the launch of a range of dairy-free ice creams.
Three varieties of Alpro ice cream – vanilla, coconut and hazelnut chocolate – have gone on sale in Ireland through Tesco's local stores.
The same lines will be launched at Tesco stores in the UK next month. The ice cream in Ireland and the UK is sold in 500ml tubs. In the UK, Alpro has put forward an MRSP of GBP3.50 (US$4.54).
"Sales of plant-based food and drinks are booming fuelled by the increasing number of consumers who are looking for tasty alternatives that are good for them too. This is a category driven by taste and pleasure, so the challenge was to create a creamy texture and delicious tasting ice cream that ticks the health boxes too with less sugar and less saturated fat," Vicky Upton, marketing controller for Alpro in the UK and Ireland, said.
Citing figures from Nielsen for the week ending 13 August, Alpro said the plant-based category had grown 19% in the UK year-on-year. It said it was the "brand leader" with its own sales by value up 19.5%.
The dairy-free brand is owned by US group WhiteWave Foods, which in July agreed to a US$12.5bn takeover bid from Danone, the France-based food group.