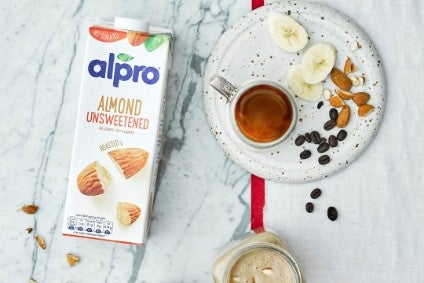 Danone has announced a "new chapter" for its combined dairy and plant-based business, which will include setting up a unit to help its dairy-free business grow geographically.
The yogurt giant, which made a significant move into the market for alternatives to dairy with the 2017 acquisition of WhiteWave Foods, wants to grow the sales generated from plant-based products from around EUR2bn (US$2.17bn) in 2019 to EUR5bn in 2025.
The company is setting up a "plant-based acceleration unit" to expand the geographical presence of that side of its business and take the company into more product categories.
Danone houses its traditional-dairy and dairy-alternative brands in a combined Essential Dairy and Plant-Based (EDP) division. It is the company's largest division by sales.
Another organisational move will see Danone's EDP unit in North America "recognised as a separate business, led by a new appointee". Coca-Cola Co. executive Shane Grant is joining Danone later this month as an executive vice president and CEO of Danone's operations in North America to lead the EDP division in that market.
Grant, who has spent almost two decades at Coca-Cola, will report to Danone chairman and CEO Emmanuel Faber. Francisco Camacho, the executive vice president for Danone's EDP division internationally, will continue to lead that division's operations outside North America, as well as head the new unit.
In a statement, the company said the new plant-based unit "leverage the power of EDP's expertise in this area to unleash further growth opportunities across Danone, notably by expanding into new geographies outside North America".
The unit will also "further expand into new categories, such as coffee, but also by leveraging plant-based expertise in categories outside EDP such as baby food and healthy ageing food solutions, and by pivoting more large brands into plant-based".