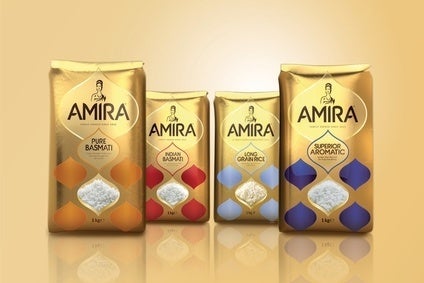 Amira Nature Foods, the US-listed rice supplier facing allegations of corruption, has issued a statement from India-based rival KRBL distancing itself from the claims and supporting the business.
Wall Street research firm Prescience Point has suggested Amira's management is over-stating its revenue. It also claimed chairman and CEO Karan Chanana was using company funds for personal use.
Part of Prescience Point's alleged evidence – published last week – are comments from an unnamed executive at KRBL, who expressed "surprise" at the level of branded sales reported by Amira, which stood at US$224m in its 2014 financial year.
"Where are they selling? At $220m- that is 1,500 crores – Amira is reporting almost the same level of sales as KRBL, maybe a little more. But where are they selling? We have a 30% market share and they have less than 5% market share. Where are they selling? That's where we are concerned," the KRBL executive is quoted as saying.
"They [are] maybe trading into non-basmati business. They may be doing some trading business, they're buying and selling and doing without much profit. They're not into the branded segment that much. Their presence is not that much. Their market share is not there in the basmati so maybe they're doing some trading in non-basmati just to gain numbers."
Amira hit back at Prescience Point's claims, calling the allegations "malafide" and "fictitious".
Yesterday, Amira released a statement from KRBL chairman and MD Anil Kumar Mittal. According to the statement, Mittal was "shocked" at the report.
"As chairman of KRBL, we have the utmost respect for The Amira Group and the Chanana family. Amira and the Chanana family are not only well known in the rice industry, but also the business community with relationships spanning generations," the statement read.
"I can confirm that we did not enter into making these irresponsible and factually inaccurate statements that have been attributed to KRBL in this report. I am confident that there has been no involvement from KRBL in this malicious attempt to disseminate this fictional information with respect to KRBL's alleged comments. It is blatantly obvious that behind the inaccurate report there is someone targeting Amira, using dishonest tactics."
Chanana said thanks Mittal and KRBL "for their support in repudiating the false claims made in this malicious report".
He added: "Amira stands by its historical financial statements filed with the Securities and Exchange Commission."
KRBL did not return a request for comment directly from the business when approached by just-food.
Prescience Point's report hit Amira's shares, which fell by more than a quarter on 9 February, the day the allegations emerged, to $9.95. The stock closed at $8.70 in New York yesterday.
Amira, meanwhile, today announced two "partnerships" in the US it believes will boost the presence of its namesake brand in the country.
The company appointed Crossmark as its national broker and entered into an agreement that will see United Natural Foods distribute the Amira brand across the US. Amira is set to launch three organic products this spring.