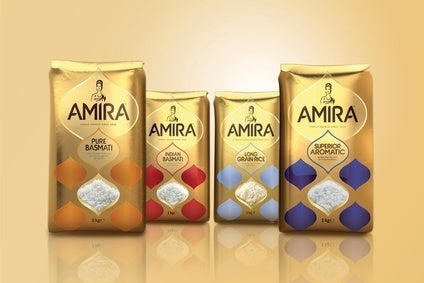 Amira Nature Foods stock lost more than one-quarter of its value in New York yesterday (9 February) after allegations emerged that management breached listing rules by cooking the books and using company funds for "personal use".
In a report from Prescience Point Research Group, entitled A Collection of lies with leverage on top the third-party research firm suggested Amira is materially overstating its revenue. "We believe ANFI to be vastly overstating its reported revenue… We came to estimate that a full 52.6% of ANFI's sales are suspect, indicating potential revenue overstatement of greater than 100%," Prescience Point suggested.
The researchers claim to have gained a "ballpark" indication of Amira's revenue overstatement by comparing claimed international basmati rice sales against official export data from India's Agricultural and Processed Food Products Export Development Authority for the same period, based on market share assumptions. "APEDA data for ANFI shows it is really producing only a fraction of the revenue reported to the SEC, in an of itself worthy of an SEC investigation."
Prescience Point also highlights Amira claims to be generating "the most revenue" of its peer group – KRBL, LT Foods and Kohlnoor – with the "least processing capacity". An unnamed KRBL executive is cited as having said: "At US$220m – that is 1,500 crores – Amira is reporting almost the same level of sales as KRBL, maybe a little more. But where are they selling? We have a 30% market share and they have less than 5% market share. Where are they selling?"
Prescience Point also flags concerns over Amira's profitability levels. "Furthermore, Amira reports the highest gross margin in the peer group. Amira's gross margin is higher than KRBL's. We would think these data indicate ANFI has better pricing power, greater operating efficiency, and a higher proportion of Basmati and branded sales vs total sales. But, ANFI possesses none of these advantages," Prescience Point suggests.
The researchers also highlight balance sheet issues that could potentially point to problems with solvency. "Persistent negative free cash flow has compelled the company to cover interest payments via debt and equity issuance… As more financing inflows are required for debt service, less cash is available to cover the company's substantial working capital needs." As a result, the researchers suggest that a cash shortage is "likely" in fiscal 2015.
Prescience Point believes that the company's management is compounding the issue with further "fraud" and the use of "shell entities". In particular, the firm points to the $30m purchase of land from Amira Enterprises Private Ltd. "We note that, per MCA records, 'Amira Enterprises Private Limited' is the former name for the entity Amira Enterprises Limited, the related party we discussed in the previous section. ANFI states the reason for the purchase is to take ownership of an 86 acre plot of land Amira Enterprises holds; oh, and by the way, most of the $30m will go directly to [CEO] Karan Chanana who owns Amira Enterprises through shell companies he set up that are owned by companies he owns… Land purchase appears an egregious transfer of wealth from shareholders to Chanana."
On Chanana, Amira's CEO, Prescience Point highlights concerns over remuneration and even cites a job advert for the chief executive's personal household staff. "The company seems to be paying for Karan's personal expenses in addition to the thumping package they are offering him."
Shareholder investigations have been launched by law firms including Rosen Law Firm and Pomerantz, with the potential that one or more class action lawsuits could be launched against the firm.
Shares in Amira fell 25.75% in trading yesterday, slipping to $9.95 a share.
Amira was not available for comment at time of press.