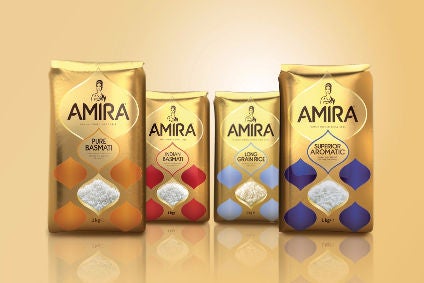 Amira Nature Foods, the UAE-based and US-listed packaged rice supplier, said today (2 December) it had been granted approval to export its basmati rice to China.
The company said the move meant it had become "part of a select group of Indian companies now with the opportunity to enter China, which is both the world's largest producer and the largest importer of rice – importing nearly US$2 billion of rice over the last 12 months".
Amira chairman Karan Chanana said: "International expansion has been a strong pillar of our growth, and we are very excited to have this tremendous opportunity to further increase our international distribution footprint with Amira's entrance into the China market."
Last month Amira booked a 9% fall in half-year sales as a result of reduced pricing and the impact of exchange rates on the group's rupee-denominated India business. Amira said revenue for the six months to 30 September was US$210.9m, down from $231.7m in the same period a year ago.
Reports in India say a clutch of other Indian rice companies have won export permits including KRBL , Best Foods , Sarveshwar Foods , SSA International, Ebro India, Pari India, Drrk Foods , Sunstar Overseas , Nature Bio Foods, MR Overseas and United Exports.