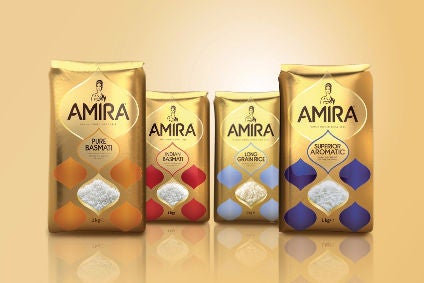 UAE-based, US-listed rice supplier Amira Nature Foods has claimed "an improved performance" during the second half of its financial year, reporting a return to sales growth.
Amira expects to publish its full annual results for the year to the end of March in July, However, the company, which saw its sales fall 9% in the first half of its financial year, yesterday (23 May) provided some unaudited figures of its numbers for the second half of the period.
The group said its second-half revenues "increased by approximately 2% or more" year-on-year. Amira also estimates its adjusted EBITDA margins for the year "will be broadly in line with its historical full year adjusted EBITDA margins".
CFO Bruce Wacha said: "We are encouraged by the improved performance in the second half of our fiscal 2017. We have reached an inflection point in our business recovery and we are now positioned to report modest growth for the six months ended March 31, 2017 when compared to the same period in the prior year. We continue to focus on growth opportunities and building the business. We look forward to discussing our improved performance for fiscal 2017 and providing our outlook fiscal 2018."