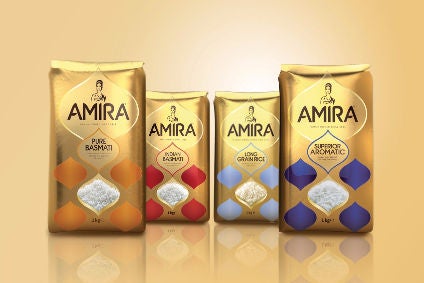 A court in the US has dismissed a class action lawsuit against Amira Nature Foods stemming from allegations made last year that the rice supplier over-stated its revenue and used funds for personal use.
Amira announced today (22 August) the United States District Court for the Central District of California had granted the company's motion to throw out the lawsuit.
Judge Fernando Olguin dismissed the class action without prejudice for lack of prosecution and failure to comply with court orders.
The court announced on 18 July it backed Amira's motion but gave the plaintiffs in the suit until 4 August to file another amended complaint. No further complaint has been made.
The legal action started in February 2015 when a group of shareholders in Amira accused the company of over-stating its revenue before its IPO in 2012. The investors pointed to a report from Prescience Point Research Group, published earlier that month, which claimed Amira had exaggerated its revenue, flagged concerns over the business's profits and the use of company funds by CEO Karan Chanana.
In April 2015, the legal action was combined into one class action with another suit from an investor who claimed they had lost money after Amira's share price had plunged in the wake of the publication of the Prescience Point report. The combination was made at the request of the Steamfitters Local 449 Pension Plan, another investor that claimed they had lost out from the fall in Amira's share price. The class action suit was filed against Amira, CEO Chanana, three company CFOs including incumbent Bruce Wacha and the underwriters of the company's IPO.
Last month, Amira filed its results for the year to the end of March.
The company's revenue fell 19.5% year-on-year to US$563.4m. Amira said the decline was "primarily" due to lower volumes in emerging markets, macro factors including the impact of currency translation on its business in India, as well as lower prices for its basmati rice in the wake of a decrease in input costs. The group said it believes the fall in volumes in emerging markets was "short term in nature".
Net profit attributable to shareholders of the company stood at $25.8m, versus $42.1m a year earlier.
Amira provided an adjusted EBITDA figure, which excluded legal and professional charges, costs from a notes offering and non-cash expenses for share-based compensation. It stood at $74.7m, compared to $99.9m the previous financial year.
Wacha said: "As we noted previously, 2016 was a challenging year due to a number of factors that we believe to be largely temporary in nature. Nonetheless, we maintained margins at historical levels – generating adjusted EBITDA of $74.7m and adjusted EBITDA margins of 13.3% for the year. We continue to maintain strong relationships with our major customers and now that we have reported our results for fiscal 2016 we look forward to returning to our growth model in 2017 and having a deeper engagement with our investors. We continue to see many opportunities in India and around the world to further expand our business and create value for our shareholders."