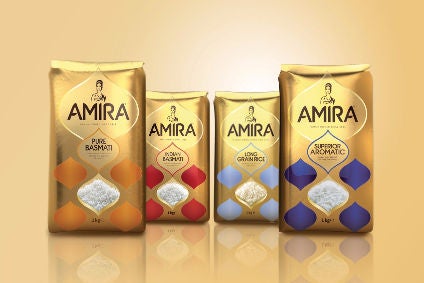 Amira Nature Foods has entered a signed a deal with United Arab Emirates-based distributor MAN Consumer to grow the rice maker's distribution in the country.
MAN Consumer will distribute Amira products in the country. The deal was formalised last week, Amira said today (29 February).
Amira said MAN Consumer is "one of the fastest growing" distributors in the UAE and distributes over 30 brands in the region.
Karan Chanana, Amira's chairman, said: "This marks an exciting step for Amira in the UAE. We look forward to working with the group to increase our product availability in the region, allowing more Emirates consumers to discover the Amira brand and our excellent range of quality rice."
MAN Consumer general manager Taranjit Singh added: "Amira's premium aged rice ranges intend to bring delight to consumers, like no other. With our strong distribution strengths, MAN intend to ensure Amira's availability in every single corner of the country and make Amira a household name."