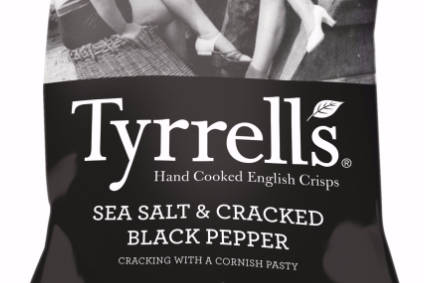 US-based Amplify Snack Brands has struck a deal to buy UK crisp maker Tyrrells from Bahrain-based private-equity firm Investcorp in a cash-and-shares deal worth GBP300m (US$392m).
The sale comes three years after Investcorp bought Tyrrells from fellow buy-out house Langholm Capital.
Amplify Snack Brands said Investcorp and members of the Tyrrells management team will receive around GBP278m in cash and approximately 2.1 million shares of the US firm's common stock.
The deal, which will see Tyrrells join an Amplify Snack Brands portfolio that includes SkinnyPop popcorn and Paqui tortilla chips, marks the US group's first major foray outside the US. Amplify Snack Brands said it expects to finalise the acquisition by the end of September.
Tom Ennis, Amplify Snack Brands' president and CEO, said the deal would see the creation of "a truly unique international better-for-you snack food leader". He added: "We believe that the combination with Tyrrells will create significant long-term value for all of our stakeholders. Similar to Amplify, Tyrrells has a strong entrepreneurial spirit and successful track record of transforming categories and creating growth brands. We plan to capitalise on each company's market leadership and sales forces to drive higher revenue growth than either company could independently accomplish."
The acquisition is the second made by Amplify Snack Brands in three months. In May, Amplify Snack Brands, the US maker of SkinnyPop popcorn, closed a deal to acquire better-for-you snack food company Boundless Nutrition.
David Milner, Tyrrells' CEO, first invested in the UK crisp firm six years ago. He will join Amplify Snack Brands as president of the group's international business and said: "We were lucky enough to be able to choose our long-term partner and this partnership provides a significant opportunity to accelerate sales growth for Tyrrells' brands in the United States, as well as the scope for Amplify's brands in the international marketplace. Building upon the strength of each of our respective customer relationships and leveraging Tyrrells' manufacturing capabilities, we shall be entering new territories as well as broadening our reach in existing markets."
Investcorp claimed its ownership of Tyrrells had seen an "extensive transformation" of the business, "in which sales and EBITDA more than doubled and employee numbers grew by over 70% globally, 30% of which were new employee positions created in the UK". International markets now account for close to 40% of sales compared to 20% three years ago, Investcorp said. Tyrrells has also "grown organically and through acquisitions in Australia and Germany".
Carsten Hagenbucher, the MD of Investcorp's European corporate investment team, added: "Tyrrells is a great British success story which we've been delighted to play a part in. Three years ago we saw the opportunity to export a fantastic domestic brand and that has been our focus, through two transformative acquisitions – both of which were proprietary deals – and by driving growth in the UK and many international markets."
Milner told just-food in June Tyrrells had been "lucky enough" to grow at "about 30% a year" for the last six years, on the back of expansion at home and a growing international business, built on exports to over 30 countries from its domestic plants. Tyrrells' recent growth has also been boosted by Yarra Valley, the Australian organic snacks business it acquired last year. In May this year, Tyrrells acquired Aroma Snacks, a German supplier of organic crisps.
In an interview with just-food in May, Milner said the company had started to consider how it could maintain that rate of growth, pointing to the integration of Yarra Valley and Aroma Snacks, innovation, further international expansion and M&A. The US was one of Tyrrells' smaller international markets and Milner conceded the company would need to acquire a business there to make a step-change to its fortunes there. "You're spot on. We try hard there and we do have success but you can't be a part-time competitor in North America. It's the biggest market in the world. It's the most competitive market in the world. If you're going to win there, you've got to be on the ground. We're not. You can't win everything at once. You have to stage it. Do these things one after another."