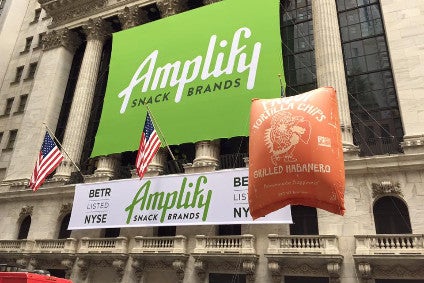 US snack maker Amplify Snack Brands has created a new position of chief strategy officer as part of a "strengthened leadership team" aimed at boosting the growth of the business.
CFO Brian Goldberg will take on the newly-created role, which Amplify said was "primarily focused on corporate strategy, strategic partnerships, M&A execution and integration, as well as other global corporate development initiatives". Goldberg's move will take effect upon the appointment of a new CFO this year.
Amplify president and CEO Tom Ennis said Goldberg's new post would be "an integral strategy role, given his track record and strong background in corporate development" as Amplify focuses on the integration of UK crisp maker Tyrrells "and realisation of revenue synergies over the next several years".
The company has also appointed former Kellogg executive Mike DeGrace as senior vice-president of sales North America. DeGrace was foodservice sales vice president at Kellogg for two years up to November and was previously the company's vice president for sales strategy and planning.
Ennis said the appointment of DeGrace, who has also held executive posts at WhiteWave Foods, ConAgra Foods, Chiquita Brands International and Kraft Foods, is part of plans to "position ourselves for the next phase of our organisational development and growth".
Amplify also confirmed the previously-announced promotions of Stuart Telford, who previously served as Tyrrells' group operations director, to senior vice president of global operations and Jeff Arnold to vice president of North America operations.
Meanwhile, Amplify said Jason Shiver, the company's executive vice president for its operations in North America, "will transition into an executive advisory role for the remainder of the year".
As a result of the changes, Amplify said its board "will conduct a comprehensive executive search for the positions of CFO and general manager/president North America".
Ennis said: "We remain intently focused on the execution of our growth initiatives and building upon the success of our international brands to drive sales and profitability. Stuart Telford has already demonstrated meaningful value-added to the organisation and expanded our global capabilities in this core area. We would also like to thank Jason for his tremendous contributions and long-time support of Amplify and our brands as well as his continued involvement as an advisor".
Amplify's acquisition of Tyrrells in the summer of 2016 was the group's second in three months after acquiring the better-for-you snack food company Boundless Nutrition.