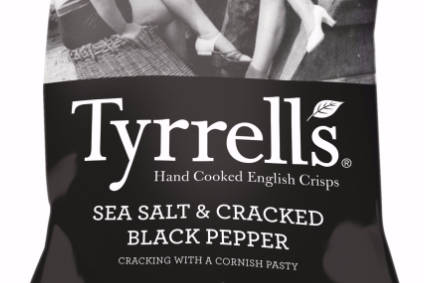 US snack maker Amplify Snack Brands has booked a 32% jump in net sales for the first nine months of the year, helped in part by its Tyrrells acquisition, but the US group has cut its forecast for annual underlying EBITDA.
Amplify said net sales for the period were up 32.5% at US$182.2m. The company cited "solid growth" for its SkinnyPop brand, improved distribution for its Paqui and Oatmega brands and the impact of its purchase of UK crisp maker Tyrrells earlier this year.
Operating income for the first nine months of the year was $43.5m versus $25.8m in the year-ago period. Net income for the period was $18.8m compared to $5.4m in the corresponding period last year.
However, Amplify updated its forecasts for annual sales and adjusted EBITDA. It now expects to report net sales of $268m to $272m and adjusted EBITDA of $84m to $86m. In half-year results released in August, Amplify said it estimated full-year net sales would hit $260-270m, with adjusted EBITDA reaching $92-96m.
Amplify also forecast annual adjusted earnings per share would be $0.49 to $0.51. It had not finalised a forecast for that metric in August.
Amplify said yesterday (14 November): "The company has not reconciled its expected adjusted EBITDA to net income or adjusted EPS to earnings per share under outlook because it has not finalised calculations for several factors necessary to provide the reconciliations, including net income, interest expense and income tax expense," Amplify said. "In addition, certain items that impact net income and other reconciling metrics are out of the company's control and/or cannot be reasonably predicted at this time."