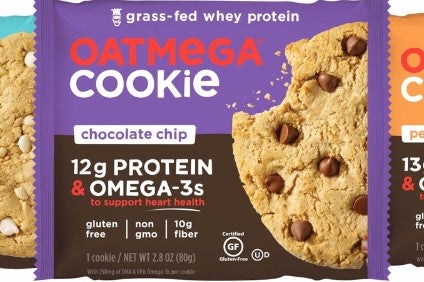 US group Amplify Snack Brands has added a grass-fed whey protein biscuits to its line of Oatmega products.
Like the protein bars Amplify markets under the Oatmega brand, the biscuits are made from grass-fed whey, which the company claims is a "premium, high-quality, complete protein" from pasture-raised New Zealand cows also reared without antibiotics.
Each biscuit contains between 12-13 g of protein, 250g of DHA and EPA Omega-3s, and is certified gluten-free and non-GMO.
The snacks come in three varieties: peanut butter, white chocolate macadamia and chocolate chip.
"We know consumers are looking for high-quality, great-tasting protein snacks and Oatmega Cookie lets them satisfy their sweet tooth at the same time," Oatmega brand manager Heather Fitzpatrick said.
Amplify has also recently expanded its range of Oatmega protein bars. They now come in eight flavours including white chocolate, raspberry and blueberry; lemon chia; and vanilla almond.
Last year, Amplify snapped up UK crisp manufacturer Tyrrells, which boosted its sales in 2016. However, the group underlined the "strong momentum" it had already been seeing from its existing range.

The company's net sales rose 47.2% to US$270.8m last year, with its fourth-quarter net sales almost doubling to $88.6m after sealing the purchase of Tyrrells in September.