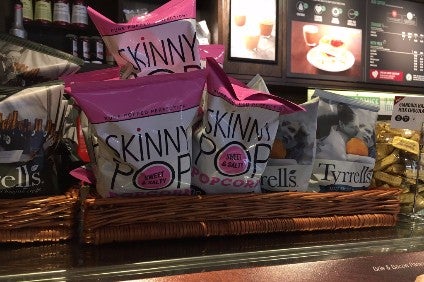 US group Amplify Snack Brands is lining up Skinnypop for a summer launch in Germany as part of a push behind its popcorn brand in Europe.
Amplify has rolled out Skinnypop in the UK this spring, with the product first being stocked in coffee-shop chain Costa Coffee.
The company has secured its first UK grocery retail listing for Skinnypop at The Co-operative Group, where the brand will go on sale next week. The group said it was in talks with other UK grocers but said "further retail listings" were "likely" from September.
Amplify, which last year gave itself a platform to launch its brands in Europe with the acquisition of UK crisp maker Tyrrells, said other markets in Europe are on the horizon.
"We cannot disclose much information but conversations are already taking place Europe with potential retailers. The first agreed listing will hit shelves in Germany from August this year," Amplify said.
The launch of Skinnypop in the UK sees the brand enter a growing market for popcorn, with notable brands including Metcalfe's Skinny, owned by US peer Snyder's-Lance.
Last month, Amplify launched legal action against Snyder's-Lance in the US over the Metcalfe's Skinny brand. Amplify said it had learned Snyder's-Lance was preparing to launch Metcalfe's Skinny in the US and alleged its competitor's actions were a "willful infringement" of its Skinnypop trademark in the country and "an obvious attempt to confuse consumers".