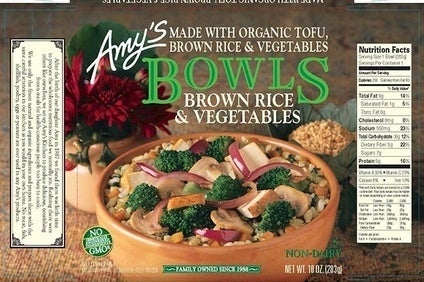 Amy's Kitchen has become the latest US food manufacturer to issue a recall over concerns organic spinach used in the production of its frozen meals could be contaminated with listeria monocytogenes.
The company is recalling 73,897 cases of frozen meals – including rice bowls, lasagna, stuffed pastas and pizzas. Amy's said the recall was sparked by a notice from one of its spinach suppliers warning of potential bacterial contamination.
"This recall is based on a recall notice from one of Amy's organic spinach suppliers that Amy's may have received organic spinach with the possible presence of listeria monocytogenes, an organism that can cause serious and sometimes fatal infections in young children, frail or elderly people, and others with weakened immune systems," the company said. "Amy's Kitchen is not aware of any illness complaints to date related to the recalled products."
Products were distributed throughout the US and Canada, Amy's added.
On Friday (20 March), dip maker La Terra Fina recalled 24-ounce tubs of organic spinach dip and spread due to potential listeria exposure.
Meanwhile, yesterday US retailer Wegmans recalled about 12,540 packages of its Wegmans organic frozen spinach because of possible listeria contamination.
Wegmans said the product was supplied by frozen vegetable group Twin City Foods. The company was unavailable for comment at time of press.