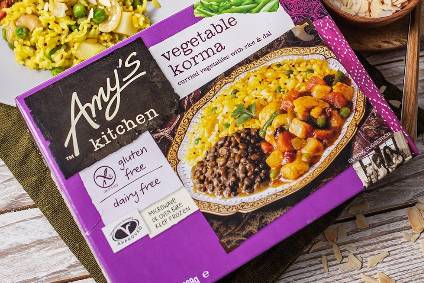 Amy's Kitchen, the family-owned US food manufacturer, wants to set up another production facility in Europe.
The ready-meals and soup maker, which opened a plant in the UK in 2011 before closing it three years later, is weighing up a move to establish a site in Europe, CEO Xavier Unkovic told just-food.
"We're very much looking to establish production in Europe," Unkovic, who was promoted from Amy's Kitchen president to chief executive last year, said.
"We don't have any firm plans but it is 100% certain that, if we want to get serious in Europe, we have to be established. We cannot afford to have products being shipped from California, or even from the [US] East Coast to Europe. That's a good way to somewhat drive the penetration in markets but that's not sustainable when it comes to growth and profitability. We're very close to making some decisions, which we'll inform you on when it's going to be firm and definitive."
Some 15% of the US$600m annual sales generated by Amy Kitchen's come from its business outside the US.
Unkovic suggested the company is aiming for international markets to account for 30% of sales in five years' time.
"I'm very excited that in next five years, we should have 30% of all volumes and sales in the international market," Unkovic said. "I think in five years Amy's should be over the $1bn mark."
Amy's Kitchen CEO Xavier Unkovic looks to build on Covid-19 boost – the just-food interview