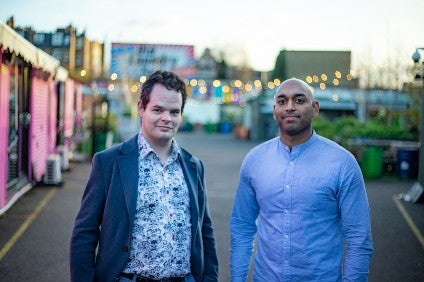 Better Dairy, a London-based start-up developing animal-free dairy products, has secured GBP1.6m (US$2.1m) in seed financing toward R&D costs ahead of its commercial launch early in 2022.
Happiness Capital, a venture fund in Hong Kong, led the round with participation from CPT Capital, a London-based fund that counts US meat-free companies Beyond Meat and Impossible Foods as investment targets. US private-equity firm Stray Dog Capital and UK-based Veg Capital also took part, along with a "consortium of high profile angel investors", according to a statement from Better Dairy.
The business was founded in January by Jevan Nagarajah (CEO) and Dr. Christopher Reynolds (CTO). "Better Dairy is relying on the fact that its technologies will allow its products to have the same flavours, textures and nutritional profile of traditional dairy products, whilst also having the environmental and animal-welfare benefits of plant-based products," the statement read.
Better Dairy's founders took part in the incubator programme run by London-headquartered Entrepreneur First through which they picked up their pre-seed investment. Entrepreneur First was established in 2011 by Alice Bentinck and Matt Clifford and has offices in Singapore, Bangalore, Paris, Berlin and Toronto.
"We're hugely excited by what we're building, and the promise that our technology has to radically improve dairy production," said Nagarajah. "What is even more exciting for us are the high-quality investors that we have on board to help realise our vision, alongside the great advisors and team that we continue to attract to the company."
Happiness Capital is the investment arm of LKK Health Products Group, a unit of the Asian sauces manufacturer Lee Kum Kee. It has invested in but since exited Beyond Meat, an alternative-protein business in California, and Hong Kong-based plant food company Green Monday.
Its managing director Eric Ng added: "We are very excited by the positive impact that Better Dairy can have on the world. We were impressed by the team and the amount they've achieved in a short period of time and look forward to working with them in ushering in this new era for dairy."