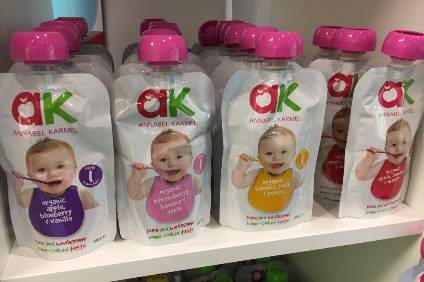 Annabel Karmel, the UK-based baby and toddler food business, is looking to tap into the "huge potential" it sees for its products in export markets.
The company, owned and run by the nutrition and cookery author of the same name, generates the bulk of its sales in the UK but has been building an international presence in recent years, with moves into markets including Australia, the Netherlands and Malaysia.
However, earlier this year, the business hired an export sales manager to try to build on its international expansion. Speaking to just-food at the IFE trade show in London, the new hire, Raheel Rehman, said Annabel Karmel had recently secured listings in the UAE and Hong Kong, while "trying to finalise" a deal in Kuwait.
"To be honest, I was quite amazed when I first met Annabel because I could see huge potential of these products in export. So far, in three months, the response has been overwhelming, not just from the Middle East but from Europe and from Asia," Rehman said.
This summer, Annabel Karmel is set to launch into the Baltic region, Rehman added. "In May or June this year, we will be listed with Rimi, which is one of the big retailers in the Baltic region and they are listing us across the region."
Sales of Annabel Karmel baby and toddler food products at UK retailers are growing; figures from IRI show sales stood at GBP10.3m (US$13m) for the 52 weeks to 25 February, up from GBP9.1m a year earlier. The data includes sales from UK supermarkets, as well as pharmacy chains Boots and Superdrug, which stock Annabel Karmel baby food.
The company's export push comes at a time when UK food manufacturers, having seen the value of sterling decline since the country decide to leave the EU, are eyeing export markets.
Rehman suggested Brexit could help businesses develop markets outside the EU. "So far 70% of UK exports are within the EU and we are missing the opportunities outside of the EU. I think this will open up doors for all of the opportunities we have been missing. We have 28 countries in the EU and there's probably only about six or seven countries where consumers have really got the buying people. We will have a lot more opportunities outside the EU to focus on."