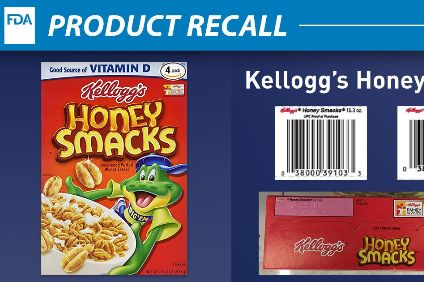 The US salmonella outbreak linked to Kellogg's Honey Smacks cereals has claimed another 30 victims, according to the country's Centers for Disease Control and Prevention (CDC).
Kellogg recalled an estimated 1.3m cases of Honey Smacks in June, saying the 15.3oz and 23oz packs "have the potential presence of salmonella" and pose a possible health risk.
Now the CDC has revealed the total number of people with the illness, linked to the cereal, is 130 across 36 states – up by 30 from the last total released in June. While no one has died from the outbreak, some 34 people have been hospitalised.
The CDC's advice, on its website, is stark: "Do not eat any Kellogg's Honey Smacks cereal, regardless of package size or best-by date," it stated.
It added: "Check your home for it and throw it away or return it to the place of purchase for a refund."
The cereal has a shelf life of one year and could still be in many people's homes, the CDC said.
All boxes of the cereal should have been taken off store shelves, but the US Food and Drug Administration (FDA) reported in July that it is still being sold in some locations despite the recall.
Salmonella is a bacteria that can make people sick with diarrhea, fever, and stomach cramps. Symptoms usually appear within 12 to 72 hours of eating food contaminated with the bacteria.
While most people recover within a week, some illnesses can last longer and be very severe, especially in young children, older adults, and people with compromised immune systems.
The affected product is distributed across the US and also has limited distribution in Costa Rica, Guatemala, Mexico, the Caribbean, Guam, Tahiti and Saipan.
No other Kellogg products are impacted by this recall.
Previously, Kellogg said it launched an investigation with the un-named third-party manufacturer that produces Honey Smacks immediately after being contacted by the FDA and CDC regarding reported illnesses.