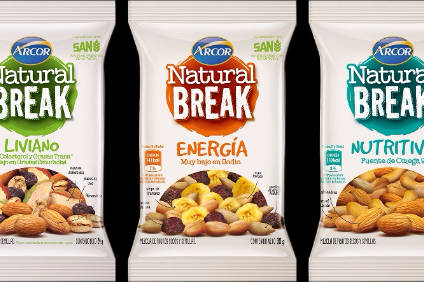 Argentinian confectionery and bakery group Arcor has entered the nuts and seeds sector with the launch of Arcor Natural Break.
Arcor said the move is in response to a growing trend seen internationally, as consumers increasingly look to eat a varied and balanced diet "incorporating natural foods that provide nutrients".
The Natural Break range comprises three varieties of nut, grain and seed mixtures that are "all natural ingredients", Arcor said. "Each variety has been carefully developed by nutritionists in portions of between 24g and 30g".
The Nutritious Mix variety offers "the right mix of cashews, sunflower seeds, almonds and peanuts, is a source of omega 9 and provides essential nutrients for a balanced diet", Arcor said. The Energy Mix variety, which is a "very low sodium product, is aimed at consumers looking for a supply of energy to carry out their daily activities" and combines peanuts, banana chips, raisins and sunflower seeds.
The third variety, Mix Light, "is ideal for any time of day", Arcor said. "It is low in saturated fat, trans fat and 0% cholesterol. The mix includes wheat with honey, apple chips, raisins and almonds."
Arcor regional marketing manager Martin Virues said the new line "reinforces our commitment to active living and healthy nutrition as part of our sustainability policy". He added: "Natural Break expands our portfolio with a rich, healthy and nutritious snack that can be eaten at any time of day."
Arcor announced last December that it was taking a 25% stake in local dairy firm Mastellone Hermanos. Arcor said it would initially invest US$60m. It has an option to increase its participation through another $35m before February 2017.