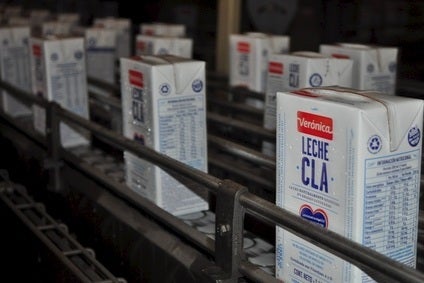 Argentine dairy firm Verónica has launched the first milk with higher levels of conjugated linoleic acid (Cla milk) in Latin America.
The milk, generated through a healthier feeding process of the cattle, includes five times more conjugated linoleic acid than regular milk and is gluten free. Verónica claims the milk offers consumers a boost to their immune system, prevention from cardiovascular diseases and cellular oxidation, a better fats metabolism, a better balance between HDL and LDL cholesterol and between omega 6 and 3.
The product has taken the company, alongside Argentina's Agricultural Technology Institute (INTA), four years to develop and is being sold in the country's supermarkets.
"The launch was very well received by the main chains," Verónica director and agronomist Mariel Espiñeira said.
Veronica's business plan is to bring CLA milk to all the main supermarkets in Argentina within the first year, with a pricing strategy similar to regular UHT milk at between 15 and 20 Argentine pesos per litre.
Verónica will use 10% of its UHT milk to manufacture this new product. That amount will be increased progressively. "It will depend on the demand of CLA milk and, without a doubt, of our capacity to adapt more dairy farms to obtain this naturally modified milk," Espiñeira said.
The main target for CLA milk in Argentina will be men and women over 30 years of age, looking for foods with added value. It is also highly recommended for babies, children and breast-feeding mothers.
Verónica is estimated to be Argentin's fifth-largest player in UHT milk in Argentina, with a market share of 9.6%.