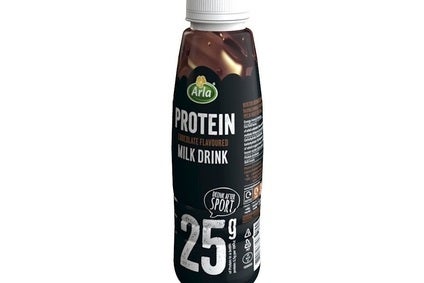 Arla Foods has added two dairy drinks to its UK portfolio.
The firm has launched Arla Protein Drinks to "appeal to health conscious and fitness loving men and women". The launch is confirmation of comments Arla made in April on plans to launch a protein-enhanced dairy drink in the UK.
It is the second protein-based dairy offering to come from the firm following the launch of Arla Protein – the fruit flavoured quark snack – in the UK.
"Spotting the success of the Protein brand, which was launched in reaction to a trend for functional, high protein products, Arla has developed Arla Protein Drinks to compete with other functional dairy drinks as well as protein shakes and bars," the firm said in a statement.
The drink contains 25g of protein and is available in two variants: Original Chocolate and Light Chocolate containing 50 percent less sugar.
Arla Protein Milk Drinks have an RRP of GBP1.89 (US$2.97) per bottle.
The Danish dairy firm has also added Arla Flavoured Milks to its portfolio of products in the UK – a reduced-sugar flavoured milk drink targeted at parents with young children.
The product claims to contain 50% less sugar than "other flavoured milk drinks" and is available in Chocolate and Strawberry flavours.
Stuart Ibberson, category director at Arla, said: "We're launching two very different products into the category with Arla Protein Drinks and Arla Flavoured Milks, targeting two distinct groups of consumers – health and fitness concerned adults and parents with children, who want to give them the best start in life. We see a big opportunity to drive growth in the dairy drinks category, which is currently in decline, with NPD that delivers on health and goodness, as nobody else is currently doing this. The launches also sees us continue to bring products to market under the Arla name, as we look to really strengthen our position in the UK dairy market."
The flavoured milks are not Arla's first moves in the segment in the UK. In 2013, Arla launched Wing-Co but last year replaced it with the Danish brand Cocio. The company also manufactures Starbucks chilled lattes under licence.