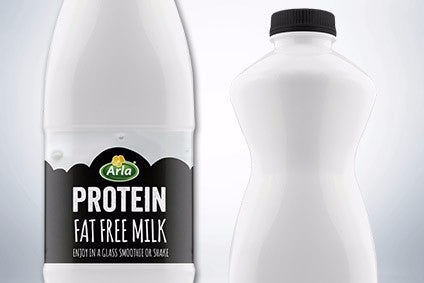 Arla Foods, which has steadily launched a line of Protein-enhanced dairy products in the UK, has added to the range.
The European dairy giant yesterday (16 October) rolled out Arla Protein Milk, a fresh milk that contains 20g of protein per 450ml serving, into Sainsbury's stores. The product, sold in one-litre bottles, contains 4.9g of sugar per 100ml, which Arla said was "per standard milk".
The co-op's Arla Protein range in the UK contains flavoured milk drinks, cottage cheese, cup yogurts and pouch yogurts.
Citing data from Mintel, Arla said: "The protein trend begins to move further into the everyday mass market, with 45% of Brits now recognising that it's important to increase protein intake when exercising and 28% agreeing that products with added protein are a good alternative to eating foods naturally high in protein."
Steph Barker, the brand manager for Arla Protein in the UK, sought to emphasise the benefits of products like the new milk to those who exercise.
"We all know that protein is important in a healthy diet and especially for those that are exercising regularly. Arla's new Protein Milk is an easy way to incorporate the nutrient into everyday life to optimise the workout regime," she said.
The milk has a recommended selling price of GBP1.30 (US$1.71).